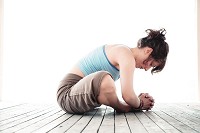 "If you have lower back pain or discomfort, you can learn helpful yoga techniques for your toolbox," said Denise Bunch, YogaSoul instructor and leader. "You can make taking care of yourself easier."
Eagan, Minnesota (PRWEB) October 23, 2012
YogaSoul Center leader and instructor Denise Bunch is offering a new workshop designed to help students with low back pain, pelvic issues and more.
The workshop, called "Nurturing Your Lower Back," takes place Saturday, Oct. 27, from 1 p.m. to 3 p.m.
Anyone who has scoliosis, lumbar disc issues, lower back tightness or pain, and pelvic issues can benefit from this experiential workshop. Students will learn what is going on anatomically with these health issues, how to take care of themselves and stretch out key muscles, as well as how to tailor their yoga practice for optimum wellness.
Bunch, a yoga and Pilates instructor and leader at YogaSoul, says each day people can take care of their bodies and their health by stretching well, working on their posture and going to yoga regularly.
Students can learn even more by going to her workshop.
"If you have lower back pain or discomfort, you learn helpful yoga techniques for your toolbox," she said. "You can make taking care of yourself easier."
Cost for the Saturday workshop is $35, and pre-registration is required.
YogaSoul's mission is to help clients win the battle against stress. It has an extensive class offering in several styles of yoga, including Kundalini, Hatha, Yin, and Vinyasa. It boasts a fully equipped Pilates studio and offers many kinds of classes, including Zumba, Tai Chi and belly dancing. Its full roster of teachers and healers provide clients with a variety of healing services, including intuitive readings, Reiki, Thai yoga bodywork, Ayurveda, energy work and several others. YogaSoul also hosts special workshops and Kundalini yoga teacher trainings.
To see a full schedule, make an appointment with a healer or sign up for a class, visit YogaSoul's
website, http://yogasoul-center.com/. New students get their first week of classes free.
###