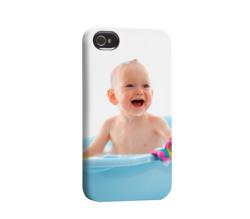 Since MailPix launched in July, iPhone cases have been one of our most-requested products, says Fred H. Lerner, president and CEO, MailPix.com
Huntington Beach, CA (PRWEB) December 19, 2012
MailPix.com, the new photo-printing site, is now offering high-quality photo cases for iPhone, iPad and Amazon Kindle. MailPix uses an enduring dye-sublimation process to transfer photos to device covers in true-to-life colors.
As a special kickoff promotion, MailPix is offering $5 off, making these cases a great value less than $40.
"Since MailPix launched in July, iPhone cases have been one of our most-requested products," says Fred H. Lerner, president and CEO. "For many people, their tablet is a portable photo album. Our colorful covers can preserve those special moments, while providing top-notch protection to phones and tablets."
MailPix photo cases for iPhone 3 and iPhone 4/4S feature a shatterproof plastic cover with unrestrained access to all buttons.
MailPix tablet cases for iPad 2 and new iPad are available in black or red leather, with easy access to all ports and buttons. Amazon Kindle cases, including the new Kindle Fire, feature a clamshell design with wrap-around zipper for comprehensive protection.
About MailPix.com
Founded in 2012, MailPix.com is the pre-eminent site for preserving photo memories as photo books, prints, cards, enlargements and other tangible products. The goal of MailPix is to keep costs low and to pass savings along to consumers. Founder and CEO Fred H. Lerner has had a long career introducing thousands of people to the importance of "Turning Images into Memories."
The MailPix board of advisors includes James Joaquin of Catamount Ventures, formerly president and CEO of Ofoto; Ted McGrath former President of Fujifilm, USA and General Manager of Kodak's Consumer Imaging Division; Gary Pageau, of InfoCircle and former Publisher, Content Development and Strategic Initiatives at Photo Marketing Association International (PMAI); William A. Roskin, board member of Martha Stewart Living Omnimedia, Inc. and is the former Executive Vice President of Viacom, Inc.; Oscar B. (Bud) Marx III, chairman of Amerigon and is the former President & General Manager, Ford of Mexico and CFO of Ford, Europe; Bruce Charles, a founder of the law firm, Charles, Kane & Dye LLP; Gary Kramer, the founder and a co-managing partner of Kramer & Olsen Accountancy Corp.; and Peter Tahmin, an advisor to Powsumer.com and former vice president, RitzPix.com