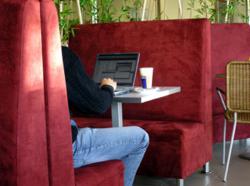 "1 Million New Solopreneurs Last Year Alone"
Portland, ME (PRWEB) December 05, 2012
According to the US Census Bureau, non-employer businesses are those with no paid employees and more than a $1,000 in annual earnings. There were 22 million of these businesses in 2010 up from 14 million in 1992. More importantly, there were almost 1 million new ones last year alone. Companies like MBO Partners and Main Virtual Office, a new digital answering service company, target these small businesses.
The Census Bureau data shows an interesting pattern of clustering of these freelancers or "one man bands". The largest concentration of solopreneurs are in Los Angeles, Miami and New York City and, with the exception of Phoenix and Chicago, they are mostly located in California, New York, Texas and Florida.
Jim Plunkett of Main Virtual Office, a phone answering service, says, "This metamorphosis of the US workforce creates a tremendous opportunity for those that provide services to these independent workers. Accountants, lawyers, web designers, social media marketers and merchant services companies like Square, that focus on this smallest of small businesses, are showing this is very deep market. Square, which is only 2 years old, already has 2 million customers." Main Virtual Office, which provides an "old school service" - professional phone answering – using new technology and a mobile app, is focused solely on this market. Time is literally "of the essence" for solopreneurs, says Plunkett, and it is has been shown that 80% of callers hang up on voicemail (Fortune 6/2006), so more than ever, these independent workers are opting for our professional answering service which in many cases, costs them less than their monthly cell phone bill. Much like Square, we are seeing a rapid adoption of our professional answering service by these solopreneurs.
About Main Virtual Office – Answering the Phone for Americas New Work Force
Main Virtual Office is the most affordable professional phone answering service provider in the US. We guarantee that a live operator, familiar with your business, handles all of your calls so that you never lose another customer or job opportunity. Receive your messages via email, text or voicemail or use our new web portal or mobile app to view your messages in one queue and update your availability to receive calls transferred from our live call answering receptionists.