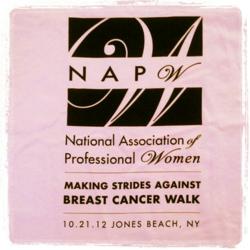 We're proud to be a part of this great cause that affects the lives of so many women. Many of our nearly 400 Local Chapters have worked hard on a local level, participating in events all across the country
Garden City, NY (PRWEB) October 18, 2012
At Corporate Headquarters of the National Association of Professional Women (NAPW), the members of "Team NAPW" are breaking in new sneakers to get in shape for their upcoming walk. Together, they are doing their part to help support the American Cancer Society's MAKING STRIDES Against Breast Cancer walk. Having already surpassed their goal of raising $10,000, Team NAPW members will join the walk on Sunday, October 21, 2012, at 8 A.M. at Jones Beach. "We're proud to be a part of this great cause that affects the lives of so many women. Many of our nearly 400 Local Chapters have worked hard on a local level, participating in events all across the country," says Cindy Burns, NAPW National Director of Local Chapters.
The employees of NAPW have come up with creative ways to raise funds as well as awareness of the disease. Those who contribute to the American Cancer Society get to wear jeans on Dress Down Thursdays, enjoy a catered lunch compliments of NAPW, or proudly wear custom-designed pink "Team NAPW" shirts. Of the 104 employees at NAPW headquarters, 95 percent are women; many know someone who has had breast cancer, and some have experienced it themselves. Participation in the event has ignited the team spirit for NAPW, which has been involved with many charitable fundraisers in the past. Team NAPW is also championing the cause on social media: NAPW's Women360 blog features a special Pink Wall of Hope where everyone is invited to post their experiences as they relate to breast cancer, through the month of October.
Approximately 8 million participants walk the 3- to 5-mile course each year. The money they raise helps fight breast cancer by providing education and screening tests; aiding prevention efforts by studying diet, lifestyle, environment, and other risk factors; offering free information and services, and researching treatments and cures.
NAPW is the nation's largest and most powerful network of female executives, professionals, and entrepreneurs. Membership spans the country and numbers nearly 400,000 professional women in virtually every industry and profession, who join together to interact, exchange ideas, learn, grow, and connect.
To learn more:
http://main.acsevents.org/goto/napw
http://blog.napw.com/index.cfm/napw-pink-wall-of-hope/
http://www.facebook.com/NAPWhq
http://www.linkedin.com/company/napw