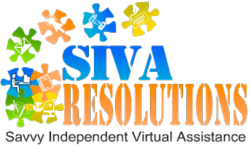 Outsourcing marketing to a virtual assistant is a strategic decision that will show immediate ROI.
Hyattsville, MD (PRWEB) December 04, 2012
SIVA Resolutions, a virtual outsourcing company based in Hyattsville, MD announces its new integrated marketing solution services. For small business owners who are faced with the obstacle of stagnated growth due minimized budgets and unlimited resources, this service will be an evolution-driven service to help meet operating goals.
The new services will include SWOT Analysis, Media Plan and Market & Trending Analysis. Many small businesses can't afford to hire departmental heads who specialize in marketing or other revenue-producing activities. An alternative for hiring staff is to outsource tasks to a Virtual Assistant "VA" who can perform multiple functions and help your business meet its goals.
Virtual assistants are highly-skilled, self-employed contractors who work from home and provide various services remotely via telephone, fax and internet. Tasks such as social media management, research, SEO, event planning and other promotion marketing services are just a few of the day-to-day activities that can outsourced, but still handled as if you had a professional team of "in-house" staff.
"To be a successful business owner, you have to constantly explore new ways to help your business evolve," said SIVA Resolutions Owner & CEO Tieshena Davis. "Outsourcing marketing to a virtual assistant is a strategic decision that will show immediate ROI, it's just smart business."
By leveraging the latest technology in cloud computing, SIVA Resolutions helps business owners improve planning, time management, and sustaining earned revenue.
"As an entrepreneur I understand the importance of focusing on the core part of a business, tedious tasks should be outsourced," Davis said. "Outsourcing helps reach milestones sooner than you could ever imagine"
About SIVA Resolutions:
SIVA Resolutions (http://www.SIVA-Resolutions.com) located just outside of Washington, DC - SIVA Resolutions is a women-owned virtual outsourcing company dedicated to helping new and existing businesses succeed by increasing their productivity and sustaining earned revenue. Our services include a variety of business support solutions in Bookkeeping, Marketing and Administrative Support Services.