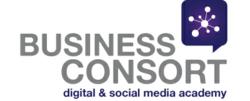 According to a recent survey from Compuware, 40% of users have turned to a competitor's site after a bad mobile experience.
(PRWEB UK) 16 October 2012
Business Consort - The Digital and Social Media Marketing Academy are helping businesses adapt their digital marketing strategies in a post PC era.
The innovative training company and marketing agency has launched fast track, online training courses to help businesses realise how mobile marketing can be quickly implemented into their business.
They have written a 21 page digital and social media guide which can be downloaded - free of charge from their website too.
By 2013, more people will use mobile phones than PCs to get online and the number of networked devices in 2015 will be twice that of the population.
50% of all Internet use is via a mobile device.
In mid-2011, we also reached the point at which consumers were spending more time on their mobile devices than on their PCs.
According to a recent survey from Compuware, 40% of users have turned to a competitor's site after a bad mobile experience.
The biggest frustrations when mobile browsing are;
1. 20% Slow downloads
2. 20% Hard to read/ find information
3. 40% Difficult to navigate sites
People used mobile search at home in the evening more than any other time or place followed by at home on weekends.
66% use mobile search while watching TV, something which should get advertisers thinking, while 61% said they use it at work.
75% said mobile search makes their lives easier, 63% said access to mobile search has changed the way they gather information, and 32% said they use mobile search more than search engines on their computers.
84% use mobile search to look for information on local retailers, such as opening hours, address and contact details. 82% look for online retailers, 73% find a specific product or manufacturer website.
Something which ties in with the crossover in TV viewing and mobile search is that 71% learn more about a product or service having seen an ad, 68% use it to find the best price for a product.
People in the UK now use their mobile phones to browse the internet, including searching for goods and services, for an average of 6 hours per week.
Dominoes pizza is prime example of a business who recognised this trend and adapted their online presence and have experienced great success through their app.
One of the biggest mistakes organisations make when developing a mobile website is making it a standalone project.
That is, not integrating your mobile website or app into your broader marketing, sales and customer (or CRM) strategy.
Instead of just thinking mobile, "think in terms of multi-channel, ""where mobile is just one channel."
Mobile marketing through apps and geo location push notifications provide another channel into the marketing mix to contact and engage with their market.
Mobile is everywhere - Getting your business noticed is the goal of every business owner -- mobile is the current hotspot for getting noticed.
June 2010, 264.5 million data-capable devices, including 61.2 million smartphones or wireless-enabled PDAs and 12.95 million wireless-enabled laptops, notebooks or wireless broadband modems, are in the hands of consumers.
Capitalising on this growing market is important for future success.
Mobile is search - Mobile search is one of the fastest growing online resources.
Google®, Bing® and Yahoo!® are heavily investing in mobile - they know that millions of people use mobile search to look for what they want.
The best way for your business to be found, is to be listed in top search engines AND have a fully optimised site that is user friendly.
Besides adapting to the smaller screen of a mobile phone, mobile sites are also easier to navigate using touch or a keypad and provide direct access to the information that a customer is more likely to need while on the go.
Mobile is entertainment - Besides searching for entertaining venues like vacation spots, restaurants and sporting events, social networking is contributing to the sudden expansion of mobile.
Sites including like Facebook® and Twitter® make mobile devices fun, as well as functional.
Add gaming sites (like ZyngaTM), app sites (like iTunes®) and review sites (like Yelp®) and spending time on your smartphone becomes a lot more attractive.
Businesses that can capitalise on those sites and have a mobile optimised site, have two steps up on the competition.
Mobile is shopping - Mobile devices have changed the way that consumers shop.
Shopping is now at your fingertips 24/7.
Besides getting real-time price comparisons from multiple online retailers that
influence purchase decisions, devices are used to get secret deals though coupon
sites, for example Groupon®, or drive foot traffic through special, time-sensitive deals.
Your business should be leveraging this new shopping channel.
Mobile is local - Not getting enough local attention for your business?
Mobile marketing can help you by engaging local search -maps and directories that
make it easy to find your front door.
Tools like Google® Maps and local directories provide general information that includes your location, contact and address.
Enhance these tools with a mobile website that can turn traffic into customers by including easy-to-access information such as 'About Us', 'Find Us', 'Hours of
Operation', 'Coupons' and 'Reservations.'
If your goal is to turn a local lead into a local sale - a mobile site may be just what you need.
10 Benefits of mobile websites
1. Your Business is Available to the World 24/7, 365 Days a Year
2. It's Your Online Brochure / Catalogue that Can Be Changed at Anytime
3. Reach New Markets with a Global Audience
4. Improved Customer Service
5. Adopt a Professional Image
6. Sell Your Products
7. Promote Your Services
8. Gather Information and Generate Valuable Leads
9. Provides Instant Gratification
10. Great Recruiting Tool
Find out more about Business Consort's online training courses by visiting their website http://www.thesocialmediaacademy.org