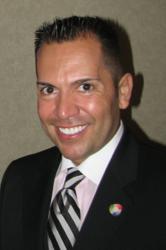 It is a personal mission and passion to create true, enduring, innovative, and intrepid resources for our future generations!
Houston, TX (PRWEB) April 16, 2012
Mark L. Madrid is on a meteoric rise. Madrid is taking his mentorship prowess to the national level, as he will unveil an innovative and unique model to inspire success for high-performing Hispanic high school seniors.
When contacted for comments, Madrid cited one of his favorite John Wooden quotes: "The true test of a man's character is what he does when no one is watching." Madrid added, "I will give select high school seniors the mentorship that I lacked when graduating valedictorian from high school. Even when earning the designation of 'Endowed Presidential Scholar' at the University of Texas at Austin, I lacked mentorship from Hispanic leaders. I had plenty of work-ethic mentorship from my family. I did not have numerous examples on the academia side. It is a personal mission and passion to create true, enduring, innovative, and intrepid resources for our future generations!"
With an elevator ding in the background, Madrid scurried off to one of his many community board engagements. In this case, the defeat of childhood obesity was the focus.
Houston and national leaders are taking note of Madrid's achievements.
In 2011 the Houston Business Journal recognized Madrid as one of Houston's 40 Under 40, one of Houston's most respected and innovative young leaders. In September Madrid was honored with the Jefferson Award. The Jefferson Awards are a prestigious national recognition system honoring community and public service in America. They began in 1972 to create a Nobel Prize for public service. Madrid is also distinguished as one of Houston's "Men of Style", which honors men in the Houston community who have shown a sense of fashion savvy and dedication to community service. He is a graduate of the Center for Houston's Future Business/Civic Leadership Forum. Considered The Region's Think Tank, the Center for Houston's Future guides emerging and proven leaders to a new understanding of, and a new sense of personal accountability for, the future of the Houston region.
In 2012 the United States Hispanic Chamber of Commerce and the University of Notre Dame Mendoza College of Business announced Madrid as the inaugural recipient of a collaborative national fellowship for Notre Dame's Master of Nonprofit Administration. The Mendoza College is the only nationally-ranked business school to offer a graduate business degree designed to advance business leadership and managerial skills while keeping nonprofit leaders in their jobs.
Madrid's passion of inspiring the American dream of home ownership will be showcased when he Chairs the 2012 NAHREP (National Association of Hispanic Real Estate Professionals) signature event, "Our New America: Diversity, Entrepreneurship, and Leadership in the 21st Century; the Leverage of Hispanic Houstonians." He is also the co-founder of an emerging leaders group, "Los Yuppies."
With his breadth of expertise, ambition, innovation, and social media savvy, Madrid is indeed one to watch.
For more information, please contact Mark L. Madrid directly:
E: integrity(dot)35(at)hotmail(dot)com or http://www.linkedin.com/in/markmadrid