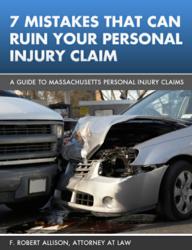 With this book, I wanted the entire personal injury claim process to be laid out in an easy-to-comprehend manner, and I wanted to provide factual answers to common questions and concerns
(PRWEB) September 26, 2012
F. Robert Allison, a Massachusetts personal injury attorney who provides legal services to those with personal injury claims and motor vehicle accident claims, has recently authored and launched a new book, 7 Mistakes That Can Ruin Your Personal Injury Claim: A Guide to Massachusetts Personal Injury Claims.
"My goal with this book was to provide those who have been injured due to someone else's negligence with a helpful understanding of the personal injury claim process, and to present some of common mistakes people make that prevents them from obtaining the compensation they are entitled to," said Robert Allison, Attorney at Law. "If you are thinking of pursuing a personal injury claim, and are seeking a Massachusetts attorney, I wrote this reference to outline the specific types of personal injury claims,
including car accidents, slip and fall claims and dog bite claims."
In this book, Allison outlines the basics with respect to understanding what a personal injury claim is, and what needs to be proved in order to be entitled to personal injury damages. The book is presented in outline form, and details the entire process and provides readers with many facts and answers to commonly asked questions for those with a personal injury claim.
"With this book, I wanted the entire personal injury claim process to be laid out in an easy-to-comprehend manner, and I wanted to provide factual answers to common questions and concerns," said Allison. "This is a very transparent book, and I've listed the seven mistakes that I see people make every day that has the potential to ruin your personal injury claim; including mistakes made in motor vehicle accident claims, dog bite claims, and slip and fall claims."
Allison also included sections on Frequently Asked Questions, client rights, case results, and testimonials from prior clients.
Allison's book, 7 Mistakes That Can Ruin Your Massachusetts Personal Injury Claim, is currently being sold on Amazon. To view or purchase it, visit http://amzn.to/Q1MHYJ. It is also given as a free reference guide to those seeking a personal injury claim with Robert Allison's practice.
For more information on Allison's practice, visit http://www.frobertallison.com, or call 978-740-9433 for a free personal injury claim consultation.