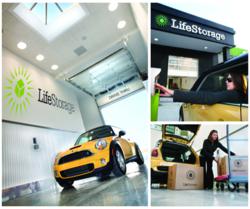 (PRWEB) November 28, 2012
LifeStorage, Chicago self storage provider for home and business, is proud to announce that Jane Bushong, LifeStorage Matteson Store Manager, has been elected the Chicago Southland Chamber of Commerce Ambassador of the Month. Bushong was featured front and center on the Southland Chamber's web site as its featured member, along with a brief biography about her past and business accomplishments. Bushong, who has been with LifeStorage for less than a year, is already making an impact with the self-storage company, bringing over 20 years of sales, marketing, association management, and customer relations experience. This experience, along with her myriad current responsibilities, make her a woman of many hats.
As a Chicago Southland Chamber of Commerce Ambassador, Bushong is tasked with being a highly visible volunteer that serve as a liaison to new and existing Chamber members. "We're considered goodwill arm of the Chamber; the Ambassador committee plays an essential role in member recruitment, communication and retention, and each Ambassador is charged with conveying member needs, questions and concerns to Chamber staff, keeping our Chamber in line with our members' desires," Bushong said.
As for being chosen as the Ambassador of the Month, Bushong feels honored. "As a volunteer, it is wonderful to be recognized for the added efforts made on behalf of the Chicago Southland Chamber of Commerce. All of the Chamber board members, fellow Ambassadors and general members are business professionals and a pleasure to work with. It also provides the added marketing opportunity of having Life Storage and myself mentioned on their web site front page this month."
In addition to being apart of the Chicago Southland Chamber of Commerce, Bushong is also an elected Board of Directors member for the Matteson Business Association whose goal is to further the interests of businesses and advocate on behalf of the business community. "Both organizations challenge their Ambassadors and Board Members to think creatively in contributing to ways we can benefit local business owners while respecting and maintaining budgetary, village, and organizational by-law requirements. It provides me a great opportunity to directly contribute while networking with fellow business owners and executives," Bushong said.
"Experience as a former business owner and with previous chamber roles helps me bring new and proven ideas to both areas of responsibility. You know what works and have often experienced some of what does not work. I am proud to be a part of both of these professional organizations and to be a direct part of Life Storage's rapidly growing company. Two-and-a-half years ago, Life Storage only had 9 locations. We are almost 10 years old and now have 20 locations and plan on expanding with additional locations very soon. Life Storage is storage for life!"
To find the nearest LifeStorage location, or for more information about LifeStorage and its services, please visit: http://www.lifestorage.net/