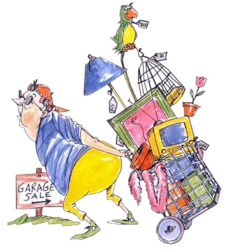 In some cases it allows our customers to consolidate into a smaller storage space, thus saving them money
(PRWEB) September 20, 2012
LifeStorage, Chicago self storage provider for home and business and office solutions, is holding a Garage Sale and Business Trade Fair Event at its Matteson location at 21700 S. Cicero Avenue, on Saturday September 22nd and Sunday September 23rd from 10am-2pm each day. Store Manager Jane Bushong has been hard at work promoting the event with advertisements in local papers, utilizing local business associations and affiliations, and sending fliers to customers and spreading the word verbally. This event is open to not just LifeStorage Matteson customers, but also business vendors and local residents. Interested parties can sign up for a free space by calling or stopping by the store and reserving a spot. Those parties will be provided a storage unit or equivalent space for use for the two-day event.
"Since this is our first Garage Sale Event, we've been working hard spreading the word. We've seen how successful our sister stores have been with garage sales, so we're really excited and hoping for a large turnout," Bushong said. "Since almost all of us hold onto items which we either no longer use or need, we're offering this opportunity to our customers and community to part with some unneeded stuff.
"In some cases it allows our customers to consolidate into a smaller storage space, thus saving them money. In other cases, the customer will simply be able to gain some needed revenue. It also provides our commercial clients the opportunity to advertise their products or services free of charge, and it provides Life Storage the opportunity of showing off our clean, modern facility, and advanced security system to community members who may have storage needs in the future," Bushong said.
LifeStorage Matteson will be offering free coffee, water, snacks, and even prizes, plus they'll have specially discounted moving supplies and storage space for that weekend only to new customers. Aside from the many people selling their wares, business vendors are setting up shop as well to attract new customers, and many of them are providing free promotions, prizes, and opportunities too.
"Hopefully all who visit will come away with great purchase deals and wonderful prizes or promotions. We welcome everyone to stop by our facility the weekend of Sept 22nd and 23rd for our garage sale or at any other time for a complete tour, or call us if to answer any questions. We are confident you'll be impressed with what we have to offer! Remember, if you're looking for a storage solution, LifeStorage is storage for life," Bushong said.
For more information on the Garage Sale event, please call either LifeStorage Matteson at 708-279-4138 . Limited space is available, so act now if you would like to reserve a unit or space!
To find the nearest LifeStorage location, or for more information about LifeStorage and its services, please visit: http://www.lifestorage.net/