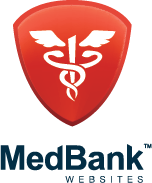 After providing North American dental practices the ability to take control of their on-line presence and marketing, we look forward to bringing the same value-added service to physicians...
Toronto, Ontario (PRWEB) August 31, 2012
BiteBank Websites Inc., known for providing dental practitioners with affordable, customizable websites and online marketing solutions, is branching into the medical vertical with the launch of MedBank Websites. MedBank Websites provides physicians with the same award winning web application and marketing solutions, complete with content and tools specifically geared to improving a physician's online presence and increasing public awareness of their medical practices.
In addition to the innovative features and services, such as online appointment requests, downloadable electronic patient forms, pre-filled services content, patient e-Newsletters and educational videos, medical professionals can also easily upload their own photos and videos, add text, and change their entire design theme with the simple click of a mouse.
Assisting with the North American launch of MedBank Websites is Henry Schein MicroMD, developer of the MicroMD suite of Practice Management (PM) and Electronic Medical Records (EMR) solutions. Henry Schein MicroMD worked with Bitebank, providing guidance on medical and specialty-specific online needs to help them build the new MedBank medical offering, and will be promoting the offering to its own PM and EMR client base. Bruce Lieberthal, General Manager, Henry Schein MicroMD, commented, "We'll be actively working with our PM and EMR clients to expand their knowledge of how to build online presence and to provide simple yet powerful ways to attract and educate patients, as well as how to create efficiencies through such features as online appointment requests."
MedBank Websites supports physicians through the use of cutting-edge technology, allowing them to easily control their websites using a proprietary, user-friendly content management system (CMS). After a simple registration process, physicians are able to create a website based on one of the extensive, professionally created, and customizable designs from the MedBank library.
"We are truly elated to be expanding our services within the medical profession alongside MicroMD. After providing North American dental practices the ability to take control of their on-line presence and marketing, we look forward to bringing the same value-added service to physicians by providing them a customizable, user-friendly and fully supported website," said Chaitan Pettukola, co-founder of BiteBank Websites Inc.
As part of the low monthly membership, MedBank customer service uploads free specialty content, provides outstanding turnaround time for customer requests, and is easily reached by instant messaging, phone or email. Once the design is chosen and any additional content is added, with the simple press of a publish button, the website can be live on the web within seconds.
About BiteBank Websites Inc./MedBank Websites
Established in 2009 by Chaitan Pettukola and Dr. Atul Joshi, the two married technology with the dental profession to create BiteBank Websites. An online web application company solely focused on providing the healthcare professionals with cost effective online solutions through our state of the art CMS. With its easy to use web application that allows users to edit websites, instantly publish changes to the web, and communicate with and educate patients, BiteBank Websites has been successfully servicing satisfied dentists across North America for over 3 years. Newly expanding into the US medical market, BiteBank Websites Inc. covers North America through affiliations with leaders in healthcare such as Benco Dental, Henry Schein Inc., and Patterson Dental. Visit us at http://www.medbankwebsites.com or call 1-855-303-7932.
About MicroMD
The Henry Schein MicroMD brand of practice solutions encompasses simple yet powerful electronic medical records and practice management software that help facilitate the delivery of superior patient care; automate incentive and quality reporting activities; and streamline operations for today's busy providers. Full-featured, time-tested and budget-friendly, the MicroMD CCHIT-certified, award-winning software helps small practices, large medical groups, community health centers and billing services accelerate progress towards a paperless environment and health information exchange with minimal disruption and stress. High client retention rates attest to its market-leading presence and client-centric focus. Visit us at http://www.micromd.com or call 1-800-624-8832.
About Henry Schein, Inc.
Henry Schein, Inc. is the world's largest provider of health care products and services to office-based dental, medical and animal health practitioners. The Company also serves dental laboratories, government and institutional health care clinics, and other alternate care sites. A Fortune 500® Company and a member of the NASDAQ 100® Index, Henry Schein employs nearly 15,000 Team Schein Members and serves approximately 775,000 customers.
The Company offers a comprehensive selection of products and services, including value-added solutions for operating efficient practices and delivering high-quality care. Henry Schein operates through a centralized and automated distribution network, with a selection of more than 90,000 national and Henry Schein private-brand products in stock, as well as more than 100,000 additional products available as special-order items.  The Company also offers its customers exclusive, innovative technology solutions, including practice management software and e-commerce solutions, as well as a broad range of financial services.
Headquartered in Melville, N.Y., Henry Schein has operations or affiliates in 26 countries.  The Company's sales reached a record $8.5 billion in 2011, and have grown at a compound annual rate of 18 percent since Henry Schein became a public company in 1995.  For more information, visit the Henry Schein Web site at http://www.henryschein.com.
# # #