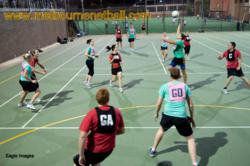 With Melbourne social netball, the focus is on cultivating social relationships through sport rather than training to play the games at a professional level in the future.
Melbourne (PRWEB) August 22, 2012
More than being an outlet for physical activity and mental stimulation, sports has always been an excellent channel for bringing people from all walks of life together for a shared love of playing a game. To further stir up interest and enthusiasm for Melbourne social netball, Melbourne Netball Pty Ltd recently introduced a modern technique to improve how a player can effectively learn the game: bringing together individuals of different skill levels—including those without formal netball training—to play in one team. This method has been found as a more effective way to facilitate learning through direct social interaction.
Running netball competitions for teams made up of players with individual skills is a challenge that the netball group readily accepts—especially since they consider it a primary goal to help all players enjoy their sporting experience in a safe and highly social environment to the highest possible level. To this end, Melbourne Netball Company Director Clare Heasly—with assistance from the group's well-established staff—employs her qualifications as Master Practitioner in the areas of Neuro-Linguistic Programming and Results Coaching in helping to develop young minds and improve players' abilities in playing netball.
Melbourne Netball provides state-of-the-art venues that can accommodate both social and competitive netball teams comprised of both male and female players over 18 years of age. With Melbourne social netball, the focus is on cultivating social relationships through sport rather than training to play the games at a professional level in the future. Without receiving any formal coaching or training, players of various netball skill levels have the opportunity to play together in the same teams and to form lasting friendships.
"This company is committed to producing quality service," says Heasly. She goes on to explain how their organisation accommodates netball teams quite differently from the main structure of the State Netball Victoria body. "The State Body places players in a team according to their level of playing skill. Melbourne Netball's modern approach acknowledges the social relationship amongst netball players. It encourages players to participate together, regardless of differing netball skill levels within a team."
The company has a well-established and trademarked Umpire Development Program that helps provide consistency to all teams and levels of playing skills during every competition. In several player testimonials that highlight Melbourne Netball's stellar features, the unparalleled quality of umpiring takes centre stage. Sarah Webb, a regular player at Melbourne Netball, says: "These umpires are the best in Melbourne, hands down. We've played at other competitions with other umpires and they simply don't come close to what these umpires do."
As leaders in professionally run netball competitions for 17 years and netball umpire training, and with five available venues for [Melbourne social netball competitions (both indoor and outdoor) catering to Mixed, Ladies', and Over 30 team grades, Melbourne Netball stays in the forefront of facilitating netball fans' passion for the unique sport. By making use of sports psychology to reach and instruct netball players, the company is sure to inspire an active fervour for the game among Australian sports enthusiasts for many more years to come.