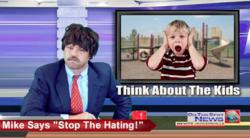 "Meet Your New Best Campaign Ad of All Time, Ever" NYMag.com
Jacksonville, FL (PRWEB) October 08, 2012
In 2010, the Mike Weinstein Campaign made headlines for its music video and song ad, "Mike Weinstein for District 19". The commercial was written, sung and directed by his son, Scott Leigh, and was originally placed on youtube where it became a viral sensation and made its way all over the world.
It was featured in articles by TIMES.com, The Wallstreet Journal, VH1, and The Daily Caller. The video made its way onto The George Lopez show, FOX News, CBS News and MSNBC.
Vanity Fair wrote, "The most perfect pop song of the summer comes not from Lady Gaga, or Beyoncé... but from the progeny of Florida Republican state representative Mike Weinstein." (Vanityfair.com)
In 2012 Mike Weinstein's team is back and introduces "Mike Weinstein Pt. II (The Weinstein Slide)".
Scott Leigh devised an off the wall campaign ad promoting political peace throughout the county. This time Scott stepped it up and went even bigger, taking it to the next level in a campaign video that is a must see to believe. With rival political gangs, pop culture misfits, robot boxing and even giant animals, this exciting, upbeat music video will change the political mindset forever.