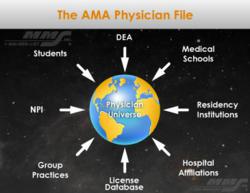 Medical marketers and physician recruiters are far more cognizant of the importance of women in the physician population
Wood Dale, Illinois (PRWEB) January 18, 2012
On January 23, 1849, Elizabeth Blackwell became what one might characterize as a medical Eve - the first woman to graduate from a US medical school. In spite of her pioneering entry into the previously all-male bastion of medicine, women physicians remained a rarity over the following century. But, starting in the 1970s, more and more women broke into the field.
Reflecting the overall changes in professional mores, medicine has become a far more gender diverse calling. Women now comprise 31% of physicians, up from just 12% in 1981 according to an analysis of American Medical Association Physician Masterfile data by Medical Marketing Service, Inc. (MMS), the industry leader of healthcare mailing and telemarketing lists and doctor email lists. The increase is consistent with the increased participation of women in the professional workforce over a similar time frame. For example, 27% of lawyers were female in 2009, vs. just 8% in 1980, according to the American Bar Association.
The number of female physicians has increased by over 400% since 1981, while male physician ranks have increased by just 52%. The overall physician population has increased 35% since 1981.
"Medical marketers and physician recruiters are far more cognizant of the importance of women in the physician population," according to Terry Nugent, MMS's Vice President of Marketing. "In fact, women physicians are highly sought after by medical practices and hospitals, particularly in specialties such as Obstetrics and Gynecology."
According to Nugent, marketers may wish to test marketing copy that is tailored by gender. "For example, if a physician recruiter thinks that women physicians generally prefer more flexible work schedules, they may wish to emphasize flexible schedules and call responsibilities in their recruitment mailings and emails.
Pharmaceutical marketers may want to develop ebooks, Webinars and practice management seminars reflecting their research on practice management and other topics uniquely tailored to the unique concerns of women physicians, or facilitate networking opportunities for women in medicine."
"The beauty of the AMA Physician List is that it has 100% accurate and comprehensive data on gender, so that marketers can confidently genderize their promotions. Gender information is obtained from medical schools as physicians matriculate into the medical education system, so its accuracy is unmatched," according to Terry Nugent, MMS's Vice President of Marketing.
Multichannel promotions can also be segmented and targeted by gender. "Because our Med-E-Mail is based on the AMA Physicians Professional Data, you can segment email marketing just as easily as direct mail and telemarketing lists" according to Nugent.
MMS publishes statistical data on women in medicine over the past decades and has the best available doctor email addresses and deployment technology to empower you to reach women doctors via email.
About MMS
MMS is the industry leader in healthcare professional lists and email marketing service. Our email marketing service reaches over 1 million healthcare professionals at double-permissioned email addresses from the best sources including the leading professional associations. MMS was the original database licensee of the American Medical Association and has specialized in healthcare professional list management for over 80 years.
For more information about MMS, go to http://www.mmslists.com or follow on Twitter @mmsemail.
###