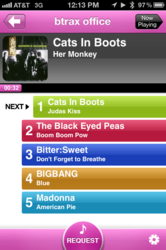 MusicParty Allows Users to Share iTunes Music with up to five iPhones
San Francisco, CA (PRWEB) March 21, 2012
KAYAC Inc., has released an iPhone app called MusicParty which is now available in the Apple iTunes App store. MusicParty allows the user to share their music with their friends in close proximity.
MusciParty also allows a user's friends to share music with through bluetooth or wireless to their iPhone. It can share music with up to five people.
To use MusicParty, a user creates a 'Party" in the app. Others can start the app on their iPhone and if they are in close proximity via bluetooth or wireless, they can add tracks to the user's "Party." The user selects the music tracks that they want to play. Up to five people including the "Party" orginatory can share music. Once the user's phone is out of range of the other phones then the "Party" is disconnected and the user will have to create a new "Party." This app can be useful for parties, roadtrips or events where a music background is needed.
"This App allows a person to share music locally to create a new music experience," says Daisuke Yanasawa , CEO of KAYAC. "Our mobile world has changed the way we interact and our devices must encourage a natural human interaction."
This app can be downloaded from the iPhone App Store.
About KAYAC Inc.
KAYAC Inc. was established in 1998 to contribute to the advancement of the internet by providing innovative web applications and services.
Today, KAYAC, whose revenue has increased over 200x since its inception and is considered one of the top creative thought leaders in Japan. KAYAC is heavily involved in mobile apps and services from social games to human productivity apps.
For more information about Kayac please visit http://www.kayac.com
For more information
Contact: Greg Viloria For Immediate Release
TEL: +1-415-344-0907
E-mail: greg(at)btrax(dot)com
Website: http://www.kayac.com