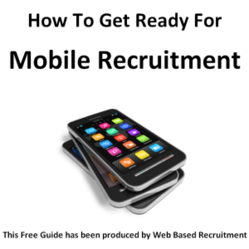 By not having a mobile-friendly website employers are not only in danger of providing a bad user-experience but they could also be sending out a message that they don't care
(PRWEB) December 30, 2011
Mobile Recruitment should be featuring high on the online recruitment strategy agenda in 2012 according to Mike Taylor from Web Based Recruitment, organisers of the annual Mobile & Video in Recruitment Conference.
Mobile Recruitment Adoption
"With the continued growth in smartphone usage job seekers can do their shopping and banking online through their mobile, so it is only natural that they will also expect to be able to search and apply for jobs online as well" said Taylor.
"However, it seems that with the exception of the early adopters, Recruiter have been slow in adopting mobile recruiting as they didn't appreciate just how fast mobile had grown and how often job seekers were using mobile to search for jobs."
"By not having a mobile-friendly website employers are not only in danger of providing a bad user-experience but they could also be sending out a message that they don't care. This could also lead to them losing potential new employees to their competitors" continued Taylor.
Free Mobile Recruitment Guide
To help Recruiters find out more about mobile recruitment, Taylor has produced a free practical guide.
The "How To Get Ready For Mobile Recruitment" guide shows the difference between Mobile Apps and Mobile Websites and how to check the number of people who visit your website via a mobile device.
The guide also explains what QR (Quick Response) Codes are and gives examples of how they are currently being used in Recruitment by both Corporate Employers and Recruitment Agencies.
You can download the free at: http://www.web-based-recruitment.com/free-guide.htm
2012 And Beyond
Going forward Taylor feels that mobile should no longer be considered as an optional extra. Instead, he believes that mobile will become a necessity for those companies who are serious about attracting new employees in a competitive market.
"In today's competitive world Recruiters need to use all available channels to promote their company and their vacancies and mobile is one of the fastest growing technology areas that can help companies extend their reach and promote their brand at the same time."
About Web Based Recruitment
Web Based Recruitment are widely acknowledged as innovators in producing high quality educational Recruitment Conferences focusing on emerging technologies, with a focus on Social Media, Mobile and Video in Recruitment.
In addition to running the world's first Mobile and Video in Recruitment Conference in 2010 they also produced Europe's first ever Social Media in Recruitment Conference in July 2009. This leading Social Media in Recruitment Conference now takes place in London during April of each year.
###