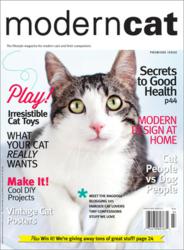 "We're addressing a real hole in the market when it comes to providing cool, smart, and good looking cat-focused editorial." - Modern Cat founder Connie Wilson
Vancouver, BC (PRWEB) November 09, 2012
The cat is indeed out of the bag. Modern Dog Inc, publisher of the award-winning Modern Dog magazine, has launched a companion publication sure to make cat owners purr.
"We are absolutely thrilled and super-excited about the launch of Modern Cat magazine," says Modern Dog and Modern Cat Founder, Publisher, and Editor-in-Chief Connie Wilson. "We're addressing a real hole in the market when it comes to providing cool, smart, and good looking cat-focused editorial." Wilson would know, having started Modern Dog ten years ago despite no previous publishing experience. Modern Dog magazine is currently celebrating its tenth anniversary, having developed a reputation as a must-read for dog lovers and raising the bar on what a dog magazine looks like. Modern Cat readers can expect the same award-winning articles, stories, photographs, and interviews that have become Modern Dog's hallmark. The first issue alone contains secrets to feline good health, modern design at home, irresistible cat toys, cool DIY projects, an exclusive interview with Dancing With The Stars' cat-loving Carrie Ann Inaba, the key to decoding your cat's wants and needs, and much more! Publishing authorities Min and Dr. Samir Husni, Director of the Magazine Innovation Center at the University of Mississippi's Meek School of Journalism and New Media, have just selected Modern Cat as one of the hottest launches of 2012. Modern Cat magazine will be recognized at an awards ceremony December 10th at the Marriot Marquis in New York City.
Modern Dog Inc. acquired the domains moderncat.com and moderncatmagazine.com in 2004 and 2005, but bringing the magazine to press was a labour of love. Modern Cat debuted as a section within Modern Dog magazine's Fall 2004 issue, which featured Regis Philbin and Kelly Ripa as cover models (appropriate, considering Regis Philbin's status as a cat lover).
To find the perfect kitty to grace the cover of the premiere issue, editorial staff took to Facebook and Twitter to promote moderncat.com's Cover Cat Contest, a reader-driven competition to find the premiere issue's "cover cat". Corky, a rescued cat from Fargo, North Dakota, won the contest with over 39,000 votes. Modern Cat's second Cover Cat Contest launches November 13th, and the winning cat will receive a photo shoot and grace the cover of Modern Cat's Spring issue, on newsstands April 1st. Wilson expects an even greater response to the second Cover Cat Contest with Modern Cat's quickly growing readership and social media following.
"Get ready to be inspired," Wilson tells new readers. "When you consider the role cats play in our lives and homes, the enthusiastic response we're getting is so natural."
About Modern Dog Inc.
Modern Dog Inc. is the parent company of Modern Dog and Modern Cat. Publishing out of Vancouver, BC, the company was started ten years ago by animal lover Connie Wilson and was an instant success, being read across North America less than one year after being launched. A large part of Modern Dog's mission is to support the efforts of organizations that work tirelessly to assist abused, neglected or homeless animals through donation programs, charitable events and cash gifts. Past cover models include Katherine Heigl, Martha Stewart and Ellen DeGeneres.
For more information, including images and interviews, please contact Jennifer Nosek at jennifer(at)moderncat(dot)com or 604-734-3131.