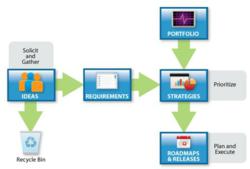 "Gathering and effectively managing product data is at the heart of product success in any market." - John Hamm, CEO, Accept Software
Santa Clara, CA (PRWEB) February 16, 2012
Accept Software announces general availability of the latest release of its product planning software, Accept 360. With input from dozens of its global enterprise customers, this latest 7.2 release significantly improves the use of the software in all areas from requirements management to agile development to road mapping and product portfolio management. With this release, product executives and their teams now have a significantly improved user experience so they can access various types of information and functions needed more efficiently. This enables the entire product team, from executive to practitioner, to get more done faster and keep the business objectives aligned to the product plan.
Currently products fail at ~50% and far too many under perform. Accept Software contends that they would have more success if they could make much better use of their product information. The result would be more products that customers want and are willing to buy. Today most companies pay too little attention to freeing information from its silos so it can be shared, organized, prioritized and then used for analyzing the impact of their investments before they're made.
"When our customers bought our software they knew that making their product information truly useful was the cornerstone of our offering to them. This latest release reflects our commitment to continually improve access to product information so the entire team can collaborate and prioritize, from the time a company creates their product concept throughout the planning until the product is delivered. This latest release goes a long way to giving faster access to product companies' ever-changing view of product information so it can be continually reconciled with the original requirements and ensuing changes." said John Haniotis, Chief Product Officer at Accept Software. "
When new ideas come in or markets shift, product teams often experience trouble absorbing any changes, let alone reconciling them with original requirements. Better and easier access to information makes the otherwise difficult task of aligning product planning to any change that shows up a straightforward exercise.
About Accept Software
When companies outstrip their "business-as-usual" product planning tools and in-house solutions Accept Software's product planning solution empowers global enterprises to accommodate constant change, coordinate teams and manage product scope, no matter how large or complex, from concept to delivery. Accept Software's collaborative approach gives companies, with complex product planning challenges, a solution for aligning their products to the best market opportunities.
###