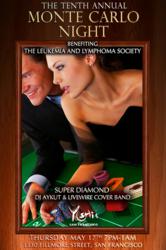 San Francisco, CA (PRWEB) March 31, 2012
Imagine weaving through the exotic and luxurious casinos that line the beaches of Monaco without stepping foot outside city limits! Stakes are high and jokers are wild at the 10th Annual Monte Carlo Night on Thursday, May 17th from 7:00pm to 1:00am at the legendary Yoshi's Restaurant & Bar at 1330 Fillmore Street, San Francisco, CA 94115. An anticipated one thousand, 25-48 year old affluent, trend-savvy, information-seeking style setters with an average income of $117,623 will be sporting eye-catching cocktail attire for an evening of exquisite food, an open bar with free-flowing drinks all night, and of course, all the excitement of a casino with games like Roulette, Craps and Texas Holdem plus so much more! Monte Carlo Night is an opportunity to publicize your company's commitment to corporate social responsibility. In addition, sponsors will receive further exposure to a larger audience through logo placement on 5,000 postcards, 300 posters, advertisements, email blasts, printed and online social media surrounding the Man Woman of the Year campaign and Monte Carlo Night. To become a sponsor, please call Joe Belluomini at (415) 760-5300 or email at joe(at)coitgroup(dot)com to discuss opportunities.
Tickets are $65 in advance or $125 for the VIP package and $1,000 for a private table with bottle service. All tickets include Fun Money, open bar, and a Yoshi's sushi and other appetizer delicacies. Tickets can be purchased at http://www.snagtickets.com or visit http://www.montecarlonight.org For more information, send an email to info(at)montecarlonight(dot)org.
To experience Monte Carlo Night to its fullest extent, all tickets include "Fun Money" for guests to play with and at the end of the night, turn in their money for raffle tickets for a chance to win several prizes! There will also be thousands of dollars worth of silent auction items. All proceeds from Monte Carlo night go to The Leukemia & Lymphoma Society for research, treatment, and ultimately, a cure for Leukemia, Lymphoma and Myelomas.
Gourmet appetizers, casino-style fun, open bar… what more could you ask for? For guests listening pleasure, the Bay Area's own Super Diamond, a famous Neil Diamond Tribute Band and Livewire, a high-energy 6-piece dance cover band, will entertain with their funky tunes. DJ Aykut will spin his internationally famous tunes all night. In addition, there will also be a special performance by Beach Blanket Babylon.
For the past nine years, Monte Carlo Night has been a benefit party for the Leukemia & Lymphoma 'Man and Woman of the Year' campaign. Candidates compete in their communities by raising funds to provide important patient services and to support vital research for those living with leukemia, Hodgkin and non-Hodgkin lymphoma, and myeloma. Each candidate raises funds during a 10-week campaign. At the campaign's end, the man and woman raising the most money, $1 per vote, wins the coveted title. This year, Monte Carlo Night is supporting the candidacy of Timothy D. Williamson, an investment banker and photographer living in San Francisco. Previous "Man of the Year" winners, Joe Belluomini and Timothy Farrelly, host the 10th Annual Monte Carlo Night.
The Leukemia & Lymphoma Society's Man & Woman of the Year campaign began in 1990 in San Francisco to honor John Spencer, a valued employee at Hastings Clothier in San Francisco and a Society volunteer. Spencer died of leukemia at the age of 39. It was in John's memory that Hastings began supporting the Society's Northern California Chapter with the San Francisco Man & Woman of the Year event. Now, more than 40 Man & Woman of the Year campaigns occur across the nation, making this a highly visible fundraising program.