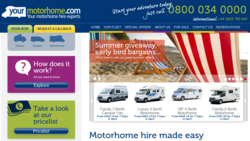 I've created Your Motorhome to satisfy the rising trend in staycations and touring holidays plus rising expectations of service and quality.
Cheshire (PRWEB UK) 11 April 2012
After numerous letdowns and bad experiences hiring a motorhome himself, Cheshire businessman Nick Edwards has this month launched Your Motorhome, the motorhome hire business with a difference.
Nick's experience and research showed that when hiring motorhomes, people are commonly disappointed with the service received. Your Motorhome not only promises a quality service and experience, but aims to deliver on that promise.
Your Motorhome's distinctive offering is based on the following:
Choice ...
Nick has formed the largest fleet of luxury motorhomes and campervans for hire in the North of England. The fleet comprises the very best brand new Motorhomes and Camper Vans available in the UK today. Manufacturers such as Swift, Autocruise, Autotrail, Ci, Roller Team and Tribute all make it onto their extensive list of motorhomes for hire.
Luxury ...
The fleet is equipped with the very best equipment available, providing every customer with luxury never seen before in a motorhome. With directors' chairs and outdoor table for lounging outside, and TV's, DVD players, and Xboxes fitted inside, everyone will be at home! Kitchens are well equipped with cookers, microwaves and some even have a BBQ to enjoy that al fresco living.
Green credentials ...
All the company's motorhomes are powered by the most environmental Euro 5 compliant engines. This makes for the most environmentally friendly motorhome hire available, a truly greener alternative.
Convenience ...
Wherever you are in the UK, the company can deliver the perfect motorhome to your door, delivered on their brand new transporters, laden with equipment to make your holiday just perfect. For 2012, the company is operating two depots - from their head office in Tarporley, Cheshire and Crewe in Cheshire. Vehicles can be inspected and collected from the depots if that is more convenient.
Ease of booking ...
Your Motorhome has invested in a state-of-the-art reservations system and a very easy to use website. Customers can book through the website (with true online reservation, a rarity in the industry) or on the phone through the call centre.
Value ...
Despite heavy investment in quality vehicles and service, the company is committed to offering the best prices in the UK. They currently operate a unique price guarantee, offering to refund the difference plus £20 if a customer finds a better like-for-like deal anywhere in the UK.
Founder Nick Edwards is an experienced businessman. He founded OneStopPhoneShop in 1996, later completing the sale and integration into Carphone Warehouse plc in 2005. He is using his expertise in running successful and efficient consumer focused businesses to transform the typically parochial and amateurish motorhome hire industry.
Nick has written a guide to avoiding the pitfalls of motorhome rental, 'facts to know before you hire a motorhome or camper van' freely available on the company website.
Contact details:
Email: nick(at)yourmotorhome(dot)com
Tel: 0800 034 0000
Web: http://www.yourmotorhome.com
Address: Tiverton Hall, Huxley lane, Tiverton, Tarporley, Cheshire. CW6 9NF