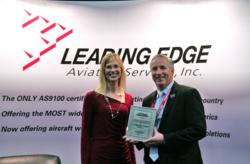 Costa Mesa, California (PRWEB) May 01, 2012
Leading Edge Aviation Services (LEAS), the largest commercial and military aircraft painting company in the world, today announced it has won the prestigious 2012 MRO of the Year Award for Innovative Service Supplier. The award, given annually by Aviation Week and Overhaul & Maintenance, honor outstanding achievement and innovation in aviation maintenance, repair and overhaul (MRO). Just four companies receive the award each year, one for Outstanding Airline Maintenance Group, Military Center of Excellence, Independent MRO, and Innovative Service Supplier.
Leading Edge received the award at a special ceremony during Aviation Week's MRO Americas Conference & Exhibition at the Dallas Convention Center on April 2, 2012. Among the innovative accomplishments that Leading Edge was selected for were its ground-breaking work supporting the United-Continental livery transition, in which the entire fleet of 671 aircraft will be refinished in just 24-36 months, and its selection by Boeing to paint the new 787 Dreamliners coming out of Charleston.
"Our winners provide exemplary models for business leadership, especially with regard to smart expansion and sustainable energy," said Lee Ann Tegtmeier, editor-in-chief of Overhaul & Maintenance. "They have made significant contributions to military and commercial fleet readiness, have championed new technologies, and are driving efficiency through innovation. Leading Edge did just that, providing innovative paint solutions that saved United in excess of five million dollars over the course of the program. We are proud to honor this achievement."
Conceived more than 50 years ago, Aviation Week's awards have since grown to become the most coveted awards in the aviation industry. Today, they signify global excellence, recognizing the extraordinary achievements of individuals and teams in aerospace, aviation and defense.
"Being recognized as an innovative service supplier by such marquee organizations like Aviation Week and Overhaul & Maintenance is a significant accomplishment," said Mike Manclark, CEO, LEAS. "Since we founded the company over 20 years ago, we've held onto an unwavering commitment to outstanding quality, innovation and value. It's those core principles that have allowed us to make advances in quality, flexibility and service times that airlines around the world have come to depend on. We are thrilled to have earned this award."
About Leading Edge Aviation Services
Headquartered in Costa Mesa, California with state-of-the-art facilities nationwide, Leading Edge Aviation Services, Inc. is the largest, most advanced commercial and military aircraft painting company in the world. Founded in 1989, the company's undeniable success is attributed to its strong vision and a continuous commitment to quality and excellence. Today, Leading Edge delivers an extensive range of commercial services including aircraft interior and exterior painting, OEM production coatings application support, mod-center painting services support, VVIP aircraft interior completions and exterior paint, aviation graphics, aircraft weighing, long- and short-term aircraft storage, field audits, fleet assessments, interior deep cleaning, and aircraft exterior wash and polish. For more information, visit our web site at http://www.leadingedgecorp.com.
About Aviation Week:
Aviation Week, part of The McGraw-Hill Companies, is the largest multimedia information and services provider to the global aviation, aerospace and defense industries, and includes http://AviationWeek.com, Aviation Week & Space Technology, Defense Technology International, Business & Commercial Aviation, Overhaul & Maintenance, ShowNews, Aviation Daily, Aerospace Daily & Defense Report, The Weekly of Business Aviation, Aviation Week Intelligence Network, MRO Links and MRO Prospector. The group also produces major events around the world.