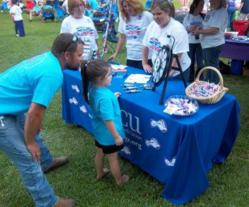 "Being involved with these events also speaks to our desire to help improve the lives of our members through financial education, dependable products and quality service."
Birmingham, AL (PRWEB) May 19, 2012
Mutual Savings Credit Union has proven its ability to be progressive and add to its product portfolio over the past two years. In 2012, the credit union's focus includes an effort to further strengthen community relations.
Each Mutual Savings Credit Union employee – regardless of position or location – has been challenged to participate in at least three community events in 2012. This challenge, which was developed by MSCU's senior management, serves a dual purpose.
"First and foremost, attending community events gives us an opportunity to go to our members and receive their input," said Sonja Purvis, Chief Marketing and Development Officer for Mutual Savings Credit Union. "Being involved with these events also speaks to our desire to help improve the lives of our members through financial education, dependable products and quality service."
Mutual Savings Credit Union officials not only recognize the importance of community involvement, they are also aware of the many different avenues of interaction that occur before, during and after the events.
"From sponsoring this year's 'Butterflies and Bridges' run in Selma to our involvement with the Peach Jam Jubilee in Clanton and our multiple Relay for Life teams, we're covering all of the major events in our markets," Purvis said. "We incorporate all of our communication channels into our event participation too. We invite members to join us at the events by way of our Twitter page and then share videos and photos from the events on MSCU's Facebook fan page and YouTube Channel."
The progressive business practices of Mutual Savings Credit Union are carrying over to member relations and both the credit union and the communities MSCU serves are better as a result.
Mutual Savings Credit Union is a $158 million financial institution with 7 locations throughout Jefferson, Shelby, Tallapoosa, and Dallas counties. Residents, students, workers, and worshipers in these counties are eligible for membership to Mutual Savings Credit Union. For more information, please visit http://www.mutualsavings.org