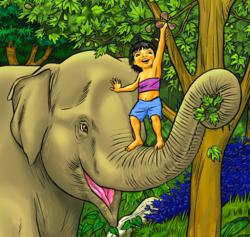 The illustrations by Paulo Sergio are brilliant and of a quality rarely seen in children's books.
Bridgewater, NJ (PRWEB) September 27, 2012
The Mubu The Little Animal Doctor™ books, are written by life long animal activist and author, Peter Alexander, and brilliantly illustrated by Brazilian artist, Paulo Sergio.
 Peter Alexander spins a beautiful and exciting tale of a little girl's adventure with her gigantic pet elephant in this latest Mubu adventure, Mubu & Goldie - Her First Elephant.
Mubu and her friends spend countless hours playing games and having fun with Goldie, in this new children's book. They splash about in the river and help to feed and care for Goldie. Mubu's brother even tries to find gold inside of Goldie's mouth. The illustrations are so lively, they make any child wish that they were with Mubu and her friends frolicking about the jungle with Goldie. A surprise ending tells why this lovely creature is worth her weight in gold. As an added bonus, at the end of the book there is a short story about a baby elephant.
"Mubu was a secret name that my grandfather called me when I was a child," Lek said. "I was just a little girl, about five years old, when my grandfather, who was a shaman in a small village in Northern Thailand, saved a man's life. Because of this deed, my grandfather was given an elephant which he in turn gave to me, I named the elephant Goldie.."
Mubu, is now known as the grown-up Lek Chailert, a world-renowned animal rights activist and environmentalist, that Paul McCartney, Angelina Jolie, Brad Pitt and Meg Ryan all have sought out regarding her work with Thailand's abused elephants. She's been featured on CNN, Animal Planet, The Discovery Channel, Time Magazine (selected as one of "Asia's Heroes") as well as National Geographic. Lek was also recognized by the Humane Society of the United States with the prestigious Genesis Award. Chosen as one of the top ten environmentalists in the world, Lek was invited to the White House by Hillary Clinton to promote green and global conservation. On Sept. 6, Lek Chailert, founder of Save Elephant Foundation, received the Outstanding Woman of Thailand award in Bangkok. Lek stated, "Mubu & Goldie will be the best of all Mubu" to her Facebook fans.
Animal lovers of all ages will love this latest Mubu adventure. The illustrations by Sergio are brilliant and of a quality rarely seen in children's books.
"What makes all of the Mubu stories fascinating, is that they are inspired by the many stories that Lek has told me during my visits with her at The Elephant Nature Park, in Chiang Mai, Thailand," stated Alexander. "As Lek has said before, she told her stories to many, I thought that they were important enough to write, share with and inspire children all over the world."  
With the help of New Jersey company, Kennebec Entertainment North America, Alexander has brought Mubu out of the jungles of Thailand and is promoting the character in the United States and the world at large.  
Kennebec Entertainment was founded by Peter Alexander in Los Angeles in 1999 and produced the award winning documentary, "The Animals Are Crying" which was endorsed by the Humane Society of the United States. These days the author spends much of his time with Kennebec Entertainment in Thailand. He recently partnered with children's book author, Jacquelyn Quattro who developed a subsidiary company in central New Jersey. The New Jersey company has  three basic divisions: the first, created for children's books and associated media. The second, for ancillary properties for Mubu; clothing, music, posters, etc., and a third, for novels and films for adults, including "Beneath" an apocalyptic adventure-novel, due out in November. The accomplished author and documentarian, a native of New Jersey, joined with Quattro, of Hunterdon county, who designed and created the digital and audio books, due to her extensive work with children's educational materials.
"The colorful and exciting Mubu books are inspired by true life events and convey a clear and pure message about kindness to animals and our environment," stated Jacquelyn Quattro, co founder, and president of Kennebec Entertainment, North America, who is the global distributor of the brand.
"When Alexander introduced me to Lek, the inspiration for the Mubu book series, I was very impressed by the work that they were both doing. Peter's stories and his objective, which is to encourage children to become more sensitive to animal welfare and our environment moved me a great deal. Peter easily convinced me to become involved. The Mubu The little Animal Doctor series inspires and empowers children everywhere in the world. They are educational and colorful books which have a rich narrative that teaches children the importance of animal conservation, and that wild animals belong in their own habitats with their families," Quattro explained.
The central New Jersey company, plans to produce a TV pilot for an exciting Mubu TV series, which is currently in development. To further the company's cause, part of the profits of the Mubu The Little Animal Doctor™ books will be donated to animal welfare projects in the USA and worldwide.
Born in New York City, Peter Alexander has resided in both Thailand and New Jersey for the past 8 years. He is a former journalist, award-winning documentary film writer and director, educator and creator and author of "Mubu The little Animal Doctor™ children's book series.
Discover "Mubu The Little Animal Doctor™" children's book series, now available on iPad, iPhone, iBook store, Amazon's Kindle, and Nook. The newest book in the series, "Mubu & Goldie" is a delightful story about a little girl, Mubu, who gets the biggest pet that a child could ever hope for. 
Also, look for Kennebec Entertainment's compelling novel "Beneath". Planet Earth defends itself against fatal devastation caused by human habitation.
 
Colleen La Rose
Pink Link Pages™