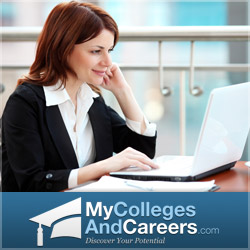 My Colleges and Careers launches a new sister site called My Criminal Justice Careers.
Provo, UT (PRWEB) March 29, 2012
A few days ago, it was announced that My Colleges and Careers released a sister website called How to Become a Police Officer. For the same reason that it was necessary to focus a website on police officers, it was deemed useful to also release a website focused on Criminal Justice Careers. As My Colleges and Careers keeps close tabs on the ever-changing jobs market, they seek to connect students with online schools that can help them qualify for work in fields that are the most secure in today's job market.
The main reason that My Colleges and Careers has found it useful to create My Criminal Justice Careers is due to the fact that crime is an ever-present feature of today's society. No matter what level of economic turmoil the country is facing, there is a constant need for individuals brave enough to enforce the laws of the land. Not only does a career in criminal justice help all citizens in one form or another, but it creates a sense of fulfillment for those who do the work.
Another positive aspect of seeking a criminal justice degree is the fact that there are numerous specialties within that umbrella. For those interested in detective work, they will be able to focus their studies towards that end. Individuals who enjoy the more scientific aspect of criminal justice can work in one of the various forensics areas, such as forensic psychology. There is also a high demand for parole officers in the field.
Essentially, job security is one of the greatest benefits of getting a degree related to criminal justice. Getting an online degree in the field can make the job qualification process simpler. As mentioned in previous press releases, online degrees permit students to continue working while completing online courses at the same time. This is an ideal situation for those looking to progress their careers. My Colleges and Careers has created website tools and resources that will best serve the needs of education-seekers as they strive to improve their quality of life and find satisfaction in their education and career. Criminal justice careers are just one field that can offer these benefits. My Colleges and Careers makes it their business to hunt out the best schools and the best careers for this day and age.
About My Colleges and Careers
My Colleges and Careers is dedicated to helping students and prospective students earn their college degrees through online degree programs. Considering that most students have other responsibilities and commitments, My Colleges and Careers can become a great resource for those seeking a way to fit school into an already busy schedule. Through online programs, students can complete their schooling at their own pace. The tools and services offered on the My Colleges and Careers website have already assisted many students in completing their education and starting a successful career.