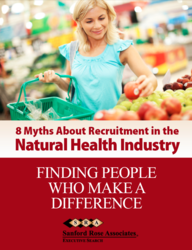 This guide helps executives take their companies to the next level by delivering best-fit employees for each key position.
Beachwood, OH (PRWEB) October 16, 2012
Sanford Rose Associates®- Beachwood, a branch of a leading global executive recruitment firm specializing in the Consumer Health Products industry, announced it is releasing a new guide to help companies in the natural products industry find top talent. The guide, 8 Myths About Recruitment in the Natural Health Industry, is available for free download on the company's website at http://www.srexecutivesearch.com/8-myths-recruiting-in-the-natural-health-industry.
Growing at a brisk five to 10 percent annually—the natural health market is booming. While this is great news for companies in this sector, a major challenge that such growth brings is the need to develop stronger talent-acquisition strategies, so companies can attract the best people to their organization and compete on a more even playing field in an increasingly crowded 'healthy living' segment.
For many companies, the concept of using an executive recruitment firm focused in the natural products industry and consumer health industry might seem unnecessary or foreign, but it's a strategy that should be seriously considered by companies who want top industry talent. With this new resource, Sanford Rose Associates® debunks the key myths about executive recruitment, shares important industry and hiring trends and outlines the advantages that an executive recruiter with experience in the consumer health products sector can bring to the table.
"Many companies are frustrated with the difficulty in finding the right kind of talent to help them reach future company goals and objectives, said Ginni Garner, President of Sanford Rose Associates®-Beachwood. "This guide was designed to dispel any negative myths they might have, so they can understand how an executive recruiter can help take their company to the next level by delivering them employees that not only have the essential skills and experience for the position, but also fit the company's culture."
About Sanford Rose Associates-Beachwood
The Beachwood office of Sanford Rose Associates opened in 2004 and provides retained executive search for companies in the Dietary Supplement, Nutraceutical, OTC, Ingredient & Raw Materials, and Natural Food & Beverage sectors. Our practice focuses on recruitment of executive and senior management professionals for roles in Sales, Marketing, Regulatory, Quality, Innovation, R&D and Operations throughout North America.
About Sanford Rose Associates
Founded in 1959, Sanford Rose Associates® currently serves its worldwide roster of client companies from 65+ offices located throughout North America, Europe, and Asia. We are committed to "finding people who make a difference®" within organizations by finding individuals who perform, exceed expectations, and assist the organization achieve its strategic goals.
###