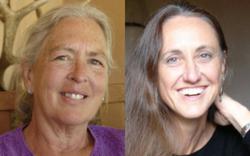 The serene and scenic rolling hills and woodlands of EarthRise will be the backdrop for The Healing Journey retreat, Feb. 22 - 26.
Petaluma, CA (PRWEB) February 29, 2012
The healing powers of nature can often bring personal renewal, enhanced wellness and creativity, and heightened spiritual awareness. With that intention, Holos Institute will host a four-day, land-focused retreat February 22-26, 2012 at the EarthRise Retreat Center at the Institute of Noetic Sciences. The serene and scenic rolling hills and woodlands of EarthRise will be the backdrop for The Healing Journey - Remembering the Wisdom of Nature, Breath and Spirit retreat that will offer participants the chance to explore their "inner landscapes" and connect to the environment.
Incorporating the practices of Grof Holotropic Breathwork and the time-honored shamanic journey, the retreat will enable participants the chance to reconnect deeply with the intrinsic intelligence of nature, psyche and soul. Deep personal experiences will be supported and enriched through the use of guided time in nature, mindfulness practice, council and self-expression through art, writing, and sacred ritual. The Healing Journey retreat will be led by Diane Haug, LPCC, a certified practitioner of Grof Holotropic Breathwork, and Jan Edl Stein, MFT, psychotherapist and director of Holos Institute.
Holos Institute recommends the Healing Journey retreat as an adjunct to therapy as well as a powerful method of self-care for helping professionals. No previous experience is required, and CEUs available to licensed MFTs and LCSWs.
Cost for the five-day retreat ranges from $895 to $1250 (single and double occupancy available) and includes freshly prepared meals, a hot tub, and accommodations that emphasize comfort among simple, zen-inspired surroundings. For registration and further information about the retreat and available CEUs, visit the Holos Institute registration page, email info(at)holosintitute(dot)net, or call Jan Stein directly at 415.751.1307.
About the leaders
Ms. Haung has worked for 10 years with adults and children dealing with life-threatening and terminal illness, as well as a seven year cycle living alone in a wilderness setting. Her intimacy with the natural world has informed her interest in shamanism and the wisdom traditions of earth-based cultures; she has a wide variety of experiences with healers from North America, Brazil, Peru, and Ecuador. As a senior member of the Grof Transpersonal Training staff, Diane currently teaches GTT training modules including Shamanism and The Art of Integration. She is currently an adjunct faculty member with Southwestern College in Santa Fe, New Mexico.
Ms. Edl Stein has a deep interest in the healing power of spiritual practice and the importance of relationship to the nature. Jan has taught and presented at the Institute of Transpersonal Psychology, Sonoma State University, Grof Transpersonal Training Program, Bioneers Conference, Association for Transpersonal Psychology and numerous private venues. Jan has a private practice which includes clinical supervision, individual and couples psychotherapy as well as consultation in earth-based wisdom traditions.
About Holos
Holos Institute is a non-profit, ecopsychology community counseling center and training institute providing services throughout the greater San Francisco Bay area. Holos offers a range of affordable, highly skilled, professional counseling services to the community. Their offices are based in San Francisco with satellite offices in Oakland, Marin County, and Petaluma. They also offer unique group experiences in nature/wilderness. Their work is holistically oriented and grounded in principles of ecopsychology. In addition to psychotherapy services, Holos serves as a public and professional forum for topics in ecopsychology, holistic, and integrative psychology through ongoing lectures, workshops, and experiential programs.
About EarthRise
Located just 35 minutes north of San Francisco, EarthRise Retreat Center is a full service conference facility that caters to transformation learning experiences. Nestled among 194 acres of rolling hills and ancient oak trees, the center provides an environment to explore consciousness, ancient wisdom traditions, experiential learning, and modern scientific inquiry. At EarthRise at IONS, psychologists, educators, philosophers, frontier scientists, and spiritual masters lead transformational learning and lifestyle programs. For more information, visit the EarthRise website or contact Jan Fischer at (707) 779-8202 or workshops(at)noetic(dot)org.
###