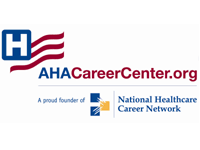 Our 2012 winners have exhibited a strong commitment to enhancing the level of care provided to their communities...
Chicago, IL (PRWEB) December 20, 2012
Three health care students received some extra special news this holiday season when they learned they were recipients of a $1500 scholarship through the National Healthcare Career Network (NHCN) 2012 Fall Scholarship Program. Each scholarship is awarded by AHACareerCenter.org to help cover the educational expenses of a health care-related program.
Matthew Sells of Ainsworth, Nebraska, Shane Smith of Madison, Wisconsin and Kimberly Thomas of Findlay, Ohio were each awarded a $1500 scholarship to help advance their professional development.
The NHCN Scholarships recognize health care students and professionals for being life-long learners, mentors and volunteers engaged in professional societies, community organizations and networking groups as they advance in their careers.
"Engaging existing health care talent and developing new leaders is crucial to advancing the delivery of health care," says Amy Goble, Vice President of AHACareerCenter.org. "Our 2012 winners have exhibited a strong commitment to enhancing the level of care provided to their communities and we are excited to see them thrive in their professional careers."
Matthew Sells is currently pursuing his Master of Business Administration with an emphasis on Healthcare Administration. His current role as Chief Financial Officer at Brown County Hospital helps target his focus on providing better care at lower costs and improving patient outcomes for his critical access hospital. Sells, also a CPA, is an active member of the Healthcare Financial Management Association (HFMA), particularly in various committees of the local Nebraska chapter.
"The role of the CFO previously focused on managing the financial aspects of a hospital's operations," says Sells. "With the transformation powered by health care reform, the CFO's role has evolved into one that must also analyze and evaluate how the facility's operations can impact patient satisfaction and the overall quality of care delivered to our patients. It did not take long for me to realize that I needed more than a CPA license to fulfill my duties."
Shane Smith, is also pursuing his Master of Healthcare Administration degree. Smith began his career as an Exercise Physiologist and now serves as the Clinical Manager of Cardiovascular Services at Dean Health System. With a focus on finding innovative ways to contain costs without sacrificing quality of care, Smith hopes to find new methods of cost reduction through better technology and efficient physician staffing models.
Smith, when informed of his award explained, "Despite difficult economic times and regulatory changes in health care, quality leadership will ultimately drive better patient care. The NHCN Scholarship will allow me to expand my knowledge base and implement my educational and practical resources to effectively manage and lead in the field of health care."
Kimberly Thomas, CCO at Blanchard Valley Health System, started her career as a pediatric nurse at one of the system's community hospitals. After transitioning to an insurance review role, Thomas now serves as the sole in-house attorney at Blanchard Valley, overseeing matters related to corporate compliance, general legal and real estate. Thomas is completing Loyola University's Online Health Law LLM Program to be fully equipped to address the myriad of challenges facing health care organization's today and efficiently manage governmental regulations and scrutiny.
"It's terrific that organizations are supporting the continuing education of health care workers. I have my law degree and have practiced for almost 10 years; however, health law is constantly evolving and requires greater expertise. I believe as an attorney my responsibility is to always provide legally-sound and ethically appropriate advice to the organization. This scholarship makes obtaining that education a little more affordable to me. Thank you!"
The NHCN Fall Scholarship Program is supported by the National Healthcare Career Network, AHACareerCenter.org and the generous contributions of hospital employers. The following hospitals enthusiastically support continued education, and leverage the reach of the network to locate and hire quality health care talent through association career centers. These employers include: Cedars-Sinai Medical Center (CA), Florida Hospital (FL), Froedtert Health (WI), Health First (FL), Mary Washington Healthcare (VA), NYU Langone Medical Center (NY), St. Jude Children's Research Hospital (TN), North Shore – LIJ Health System (NY).
About the AHA
The American Hospital Association (AHA) is a not-for-profit association of health care provider organizations and individuals that are committed to the health improvement of their communities. The AHA is the national advocate for its members, which includes more than 4,800 hospitals, health care systems, networks, and other providers of care, and 42,000 individuals. Founded in 1898, the AHA provides education for health care leaders and is a source of information on health care issues and trends. For more information, visit the AHA website at http://www.aha.org.
About AHACareerCenter.org
AHACareerCenter.org is the online job board of the American Hospital Association. Focused exclusively on health care career opportunities, AHACareerCenter.org connects professionals with job opportunities in both clinical and non-clinical roles at health care facilities. For more information, visit http://www.ahacareercenter.org.
About the National Healthcare Career Network
The National Healthcare Career Network (NHCN) provides a distinctive platform for health care employers and professionals to connect. The NHCN combines career centers from hundreds of health care specialty associations, giving employers access to quality candidates who have demonstrated a commitment to high professional standards. At the same time, the NHCN exposes its unparalleled talent pool to leading local, regional and national health care employers. By connecting quality professionals with quality employers, the NHCN strengthens the health care workforce – now and in the future. For more information, visit the NHCN website at http://www.nhcnnetwork.org.