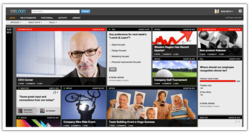 Jostle's engaging NEWS view and email digest has stimulated a measurable culture change here. - Benjamin Jackson of Catch the Fire.
Vancouver, BC (PRWEB) October 23, 2012
Jostle Corporation announced today that its innovative NEWS capability moved out of beta. Lead customers quickly engaged with the new feature, which makes it easy to share company news, recognize employees, and conduct polls.
By delivering the real-time vibe of the organization, the NEWS feature is proving an engaging way to share news, events, and happenings. A number of lead customers are seeing over half their employees read news articles within a day, many times the engagement rate seen with traditional intranets or business social tools.
"Communication professionals have long been frustrated by jumping through hoops to get the latest news up on traditional intranets, only to realize no one is going there to read it. By building in simple publishing tools, and delivering the latest news in real time, Jostle has solved this problem," commented Jostle CEO and co-founder Brad Palmer.
The Jostle NEWS view also enables simple polls that make it easy to gather employee input and a "Shout Out" capability that makes recognition easy. By using the Shout Out feature any employee can quickly recognize the contribution of a colleague or team.
"Jostle's engaging NEWS view and email digest has stimulated a measurable culture change here. Staff are now taking the time to praise one another and reach out for colleague feedback on topics they never thought to before. This truly surprised me, since we bring together people from many generations at locations all over the world, and haven't done a great job in the past of encouraging this kind of thing," observed Benjamin Jackson of Catch the Fire.
Working hand-in-hand with the NEWS view is a weekly email DIGEST that extracts the interesting articles and relevant Shout Outs and brings them to the attention of each employee.
"Keeping staff informed on important issues and events makes them feel more a part of the big team," said Courtenay Pitcher, Communications Officer, City of Vernon.
The NEWS view is an integral part of the Jostle People Engagement® platform and available to all customers. To learn more about Jostle's latest features and to get started on your 30 day trial, visit http://www.jostle.me
About Jostle Corporation:
Jostle's cloud-based People Engagement® platform is a new kind of intranet that helps organizations around the globe enable their employees and drive their culture, in simple and engaging ways. Jostle's innovative approach results from an experienced team that brings three essential ingredients together – enterprise leadership, user experience design, and web-enabled software architecture. To share in our magic please visit us online at http://www.jostle.me. Based in Vancouver, British Columbia, Jostle's enterprise platform does what intranets always dreamed of doing, but never could.