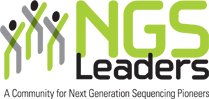 NEEDHAM, Massachusetts –
(PRWEB) May 08, 2012 -- NGS Leaders™ is hosting a free webinar entitled "Approaches to Microbiome Analysis." The 60-minute webinar is scheduled for Wednesday, May 16, 2012 at 11:00 a.m. Additional information and registration details are available at http://www.ngsleaders.org/events.aspx.
The webinar will feature a panel of industry experts sharing insights on methods for microbiome analysis, reviewing current challenges and advances in reference genome sequencing and analysis, and potential applications in linking the microbiome to various human diseases. Kevin Davies, founding editor of Bio-IT World and author of The $1,000 Genome, will moderate the industry panel.
About NGS Leaders
NGS Leaders (http://www.ngsleaders.org) is an online community for people working in next-generation sequencing, genomics, bioinformatics, and related fields. Members across industry and academia are provided with opportunities to participate in a collaborative information ecosystem to address emerging challenges and network with peers.
NGS Leaders is managed by Cambridge Healthtech Associates™ (CHA™), a firm that uses its collaborative model to improve the speed and economics of life science R&D, leveraging its consulting, technology evaluations and communities. Visit http://www.chacorporate.com.
# # #