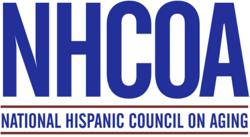 As we look toward 2013, we strive to continue working together on behalf of the Latino seniors we cherish and serve. - Dr. Yanira Cruz, NHCOA President and CEO
Washington, DC (PRWEB) December 21, 2012
As Latinos become the largest racial and ethnic group in the country, data shows that disparities are also on the rise, particularly among Hispanic older adults. This new demographic reality the country faces truly presents opportunities for both improvement and growth. In leveraging these opportunities, the year 2012 has been remarkable in so many ways, propelling our work for greater impact in 2013. Each accomplishment we have experienced this year is tied to an underlying hope, sense of unity, and commitment through our collective work.
"NHCOA certainly has many things to be grateful this year, especially the support of our sponsors and the rest of the NHCOA family. Without their vision, commitment, and passion, NHCOA wouldn't have the reach, impact, and influence to carry out its important mission," said Dr. Yanira Cruz, NHCOA President and CEO. "As we look toward 2013, we strive to continue working together on behalf of the Latino seniors we cherish and serve. While the road to better outcomes and increased successes contains many challenges, I trust our collective perseverance will lead us to create a stronger, golden America for all older adults."
The following are key accomplishments that stand out in reflecting on this year's journey:
Empowerment and Civic Engagement: This year, there was a powerful movement to develop leadership and empower communities across the country through the 2012 Promoting Communities of Success Regional Meetings. NHCOA met with more than 500 Hispanic older adults, their families, and caregivers to take a solid pulse of the community, carefully listening to their specific needs and concerns. Older adults were empowered to talk about the problems they faced, but more importantly, to be an active part of the solution.
This was also a groundbreaking year for the expansion of the NHCOA Leaders Network. NHCOA hosted four Empowerment and Civic Engagement Trainings (ECET) in different parts of the country, training nearly 200 additional local leaders to become their own best advocates. These newest ECET leaders received CEUs (continuing education units) from the University of Texas-San Antonio, adding a more meaningful dimension to this interactive and dynamic training. Throughout this effort, NHCOA has been able to train more than 800 grassroots leaders across the country over a three-year period.
Legislation Impact and Public Policy: In addition, remarkable accomplishments were met from the public policy standpoint. The Diverse Elders Coalition (DEC), which NHCOA co-founded, developed the first national report on the status of diverse older adults and presented it at a Capitol Hill briefing in July. This is the first report of its kind, showing the importance of working together to positively impact diverse communities in need. NHCOA also worked closely with office of Senator Michael Bennet (D-CO) to craft an amendment to the Older Americans Act, which includes language to improve states' and communities' ability to better serve diverse older adults with culturally and linguistically appropriate services.
Research: As NHCOA sought to advocate for viable solutions, the organization spearheaded research in 2012 on issues specifically related to Latino aging, including a needs assessment for Hispanic LGBT older adults, and a study related to Alzheimer's Disease and Latino caregivers.
Community Impact: NHCOA reached millions of Hispanic older adults, their families, and caregivers with critical information to improve their well-being through programmatic efforts, which included preventing Medicare fraud through the National Hispanic SMP, a national program to help Latino seniors fight Medicare fraud within their communities. NHCOA also promoted the importance of getting vaccinated through Vacunémonos (Let's Get Vaccinated), a community intervention to boost the rates of immunization among Hispanic older adults; raised awareness on HIV prevention through the Act Against AIDS Leadership Initiative, a program to reduce the incidence of HIV/AIDS in diverse communities; empowered seniors to live healthy lifestyles through Salud y Bienestar (Health and Well-Being), a program to prevent and/or control diabetes; and mobilized Latinos workers and older adults around Leaves That Pay, an initiative to advocate for and raise awareness regarding paid sick leave laws.
In 2013, NHCOA will continue to elevate the issues that most affect this growing segment of the population, Hispanic older adults. In particular, the organization will strengthen its existing research, policy, and programmatic efforts. NHCOA will also promote new ways to bolster partnerships and develop key relationships to achieve the common goal of improving the lives of Hispanic older adults, their families, and caregivers.
###