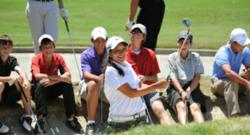 San Rafael, CA (PRWEB) March 14, 2012
Nike Golf Schools & Junior Camps has added two new camp locations in southern Pennsylvania at Gettysburg College and Millersville University. Both locations will offer one week of camp for boys and girls, aged 10 – 18.
The Nike Junior Overnight Camp at Gettysburg College is scheduled for July 8 – 12. Campers are housed on campus and travel to The Bridges Golf Club and South Hills Golf Club for golf activities. The Nike Golf Camp at Millersville University is scheduled for August 5 – 9. Campers stay on campus and utilize Crossgates Golf Club, located adjacent to the university, for all golf activities.
"We've had good success running various Nike Sports Camps at both of these schools," explains Jason West, vice president of Nike Golf Schools & Junior Camps. "That familiarity, coupled with solid camp directors and great golf venues, gives me confidence we'll generate a lot of interest this summer."
Founded in 1832, Gettysburg College is a highly selective four-year residential college of liberal arts and sciences with a strong academic tradition. Alumni include Rhodes Scholars, a Nobel laureate, and other distinguished scholars. The college enrolls 2,600 undergraduate students and is located on a 200-acre campus adjacent to the Gettysburg National Military Park in Pennsylvania.
Millersville University of Pennsylvania is a top-ranked, public university located in the northeast region of the United States. It is committed to offering students a high quality, comprehensive university experience of exceptional value. Dedicated to providing nationally recognized programs that embrace the liberal arts, Millersville offers academic opportunities that are supported by outstanding faculty who are accomplished scholars and practitioners. Founded in 1855 as the first Normal School in Pennsylvania, Millersville University is one of 14 universities within the Pennsylvania State System of Higher Education.
About Nike Golf Schools & Junior Camps
Nike Golf Schools & Junior Camps (NGJC) is a division of US Sports Camps, Inc., America's largest sports camp network. NGJC offers junior overnight and day camps, and advanced player schools at over 80 locations nationwide. Since 1994, more than 140,000 junior golfers have participated in the camps. To learn more about Nike Golf Schools & Junior Camps, please visit http://www.ussportscamps.com/golf or phone 1-800-NIKE-CAMP.