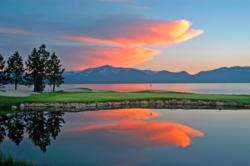 Golf, Hotel, Transportation, and most meals taken care of...no planning necessary other than where to meet the bus!
San Francisco, CA (PRWEB) May 25, 2012
It is no secret that Lake Tahoe is the go to place for Skiing in the Bay Area. However Recreation Connection, better known as the Bay Area Ski Bus, has found that it also has some pretty impressive Summer activities. Lake Tahoe and Reno have plenty to offer during the summer months, one of those activities the Recreation Connection, or the NorCal Golf Trips has planned on taking a dozen or so trips to some of the very best Golf Courses in the Lake Tahoe & Reno Area. Courses like Coyote Moon, Old Greenwood, Incline Village, Whitehawk, Dayton Valley and Grizzly Ranch, receiving 11 Best New Course Awards sitting just north of Lake Tahoe is one of the best kept secrets in the area. Pairing these golf adventures during the day with the nightlife of Reno makes for one incredible weekend vacation!
With the Reno Casino's jockeying for the business of the NorCal Golf Trips the extra features that come along with these trips is right out of a "Hangover-esque" movie. Free drinks for dinner, free tickets to the in house shows, free breakfast and $15 food vouchers, casino money, and tickets to the local events like the Reno Tahoe Open, or the Hot August Nights festival, there is not much to do other than play golf, relax, and Enjoy the Ride.
Edgewood Golf Course, sitting on the South Shore of Lake Tahoe plays host to the American Century Celebrity Golf Tournament every year is on the schedule and with the unparalleled views from the course and the typically perfect summer weather, signing up for this trip has to be a must!
Wait, there is more. A trip to Monterey sound exciting? Well, no problem, NorCal Golf Trips has that covered too. Playing Bayonet & Blackhorse, two of the very best courses not named Pebble Beach in the area. Travel to all these destinations and more in the comfort of a 56 passenger luxury bus outfitted with flat screen TV's as well as an onboard restroom. All trips NorCalGolf Trips does are all inclusive, give them a call at 925-680-4386 for more info.