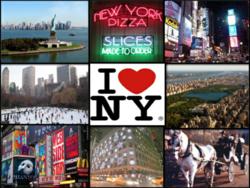 The IPA Family has a true zeal and contagious enthusiasm for the recognition and performance rewards that it provides to its IPA Family members and their families.
Tampa, FL (PRWEB) September 07, 2012
Independent Producers of America, LLC (IPA) and its "Good News Crew" announced a short run contest for the opportunity for top Sales Advisors and Leader to earn an incentive trip to New York City during the holiday season this year. IPA wants to start spreading the news about this fabulous trip where qualifications will be measured through the end of October before results are announced! "New York City is such an amazing destination for our sales force," comments Sondra Bradley, IPA National Training Leader. She goes on to comment, "There is so much to enjoy, especially during the holiday season, from shopping on 5th Avenue and seeing the gorgeous window treatments in celebration of the season, ice skating at Rockefeller Center, taking a carriage ride through Central Park, or visiting the 9/11 Memorial to pay respects, this is one trip that IPA family members want to strive for!"
To share a little history to gain excitement and momentum for IPA's upcoming incentive trip, readers should know that New York is the most populous city in the United States of America, and is known for having a significant impact upon commerce, finance, media, art, fashion, research, technology, education and entertainment. New York is also the home of the United Nations Headquarters and important city for international diplomacy. Located on one of the world's largest natural harbors, New York City consists of five boroughs, each of which comprises a state county. The five boroughs including the Bronx, Brooklyn, Manhattan, Queens and Staten Island were consolidated in to a single city in 1898. With a census-estimated 2011 population of 8,244,910 distributed over a land area of just 305 square miles, New York is the most densely populated major city in the United States. As many as 800 languages are spoken in New York, making it the most linguistically diverse city in the world. New York traces its roots to its 1624 founding as a trading post by colonists of the Dutch Republic, and was named New Amsterdam in 1626. The city and its surroundings came under English control in 1664 and were renamed New York after King Charles II of England who granted the lands to his brother, the Duke of York. New York served as the capital of the United States from 1785 until 1790. The Statue of Liberty greeted millions of immigrants as they came to America by ship in the late 19th and early 20th centuries and is globally recognized symbol of the United States and its democracy. Many districts and landmarks in New York City have become well known to its approximately 50 million annual visitors. Times Square, iconified as "The Crossroads of the World," is brightly illuminated hub of the Broadway theater district, one of the world's busiest pedestrian intersections, and a major center of the world's entertainment industry. The city hosts many world renowned bridges, skyscrapers and parks. New York City's financial district, anchored by Wall Street in Lower Manhattan, functions as the financial capital of the world and is home to the New York Stock Exchange where IPA's parent Independence Holding Company is traded under the IHC symbol.
IPA's President and COO, Dave Keeler comments, "The IPA Family has a true zeal and contagious enthusiasm for the recognition and performance rewards that it provides to its IPA Family members and their families. Hard work, dedication, and true performance are the cornerstones for what drives all of our recognition programs, contests and exotic trips. We believe that constant appreciation and consistent gratitude are very important fuel to the ongoing growth and organic expansion of our overall organization."
Various items that we make available to reward and acknowledge our IPA Family members are:
-- Weekly contest and incentives;
-- Weekly IPA Family performance newsletter;
-- Weekly, Monthly, and Quarterly "Top Performance" Award; and
-- Exotic trips that include the entire family, spouses and even your children if you so choose. After all we are the IPA Family!
Some of our recent destinations consist of:
-- Canadian Cruise
-- Caribbean Cruise
-- Costa Rica
-- New York City
-- Pelican Hill Resort and Spa
-- San Francisco, California
-- Scottsdale, Arizona
-- Tahiti Cruise
The IPA Family works very hard and we love to play very hard and enjoy ourselves as well! Additionally, we are very proud of our newest recognition program called the IPA EAGLES. The IPA EAGLES epitomizes Extraordinary Agents Growing Leadership Excellence in Sales! Due to IPA's culture of continuous growth, state of the art technology, and market expansions they are currently accepting inquiries for existing and new markets. For more information about Independent Producers of America and the companies it represents, visit http://www.ipafamily.com or contact direct at 813-983-2900 or 1-800-772-8667 and indicate you saw our press release.
About Independent Producers of America, LLC (IPA)
Independent Producers of America is a national marketing organization that distributes major medical insurance plans and other health insurance plans and consumer benefit membership programs across the nation. IPA's trained professional sales associates, referred to as the "IPA Family," provides information and a product portfolio that can meet the needs of most small business owners and self-employed individuals and families. Headquartered in Tampa, Fl., IPA is accredited and has an excellent reputation with the Better Business Bureau (bbb.org) and is a member company of The IHC Group.
We encourage you to visit us on the following social media sites:
Facebook: Simply search Independent Producers of America, LLC (IPA), IPA Family, and IPA Wisdom.
YouTube: TheIPAFamily and IPAWisdom
Twitter: Subscribe to us @IPA_Family and @IPAWisdom