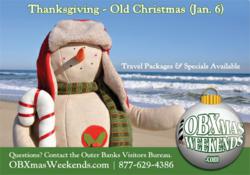 We'll be enjoying fun things for all ages into 2013, including Christmas, New Year's Eve and a new event called "A Merry Old Christmas" in Kitty Hawk on January 6th.
Nags Head, NC (PRWEB) November 30, 2012
The 2nd Season of OBXmas Weekends is underway, sponsored by the Outer Banks Visitors Bureau. The holidays on the OBX are noted for an infusion of festive lights, parades and parties to complement the year-round natural scenery and charm for which the barrier islands are recognized. From November through late December, the event calendar is filled with reasons to get off the mainland and on the Outer Banks. Visitors can say goodbye to 2012 with plenty of holiday spirit to enjoy with friends and loved ones. There are fun activities for all ages into 2013, including Christmas, New Year's Eve and a new event called "A Merry Old Christmas" in Kitty Hawk on January 6th.
With post-Thanksgiving shopping ramped up, consumers can find hidden treasures on the OBX until they "quack", so to speak, in the town of Duck during the Yuletide Celebration, November 30th through December 1st. Area restaurants serve tapas, shops stay open late and St. Nick swings in aboard a fire truck. If holiday lights top the list, travelers looking for cheerful illumination can find it at Manteo town Christmas Parade and the 24th Annual Festival of Trees, both on December 1st. The Elizabethan Gardens transforms into an luminous winter wonderland complete with garden creatures created with flowers, seeds and natural elements, and a world of lights and vignettes to enjoy from now through January 5th. An unexpected treat for off-season winter visitors is the national award-winning Christmas decorated home as seen on TV. The Poulos House family home lights up town of Nags Head at their address all season long! Check out some of the photos here http://bit.ly/Y4YLRQ. To the south, the village of Hatteras will celebrate with a Christmas Parade on December 8th with home-baked cookies, hot chocolate and awards.
OBXmas Weekends offers activities outside of traditional holiday itineraries, too. For the fans of history and aviation, the First Flight Society will host the 109th Annual Celebration of the Orville and Wilbur's First Flight at Wright Brothers National Memorial on December 17th. Perhaps the impending end of the world according to the Mayan calendar has not gone unnoticed. A couple of local races embrace the idea and have some fun with it. The tongue-in-cheek tribute and aptly titled "Doomsday 5K" and ensuing "I Survived the End of the World 5K" on December 21st and 22nd could be a great way to start the new year off right.
Wrap up 2012 with friends and loved ones on the Outer Banks of North Carolina with fun events found at OBXmasWeekends.com