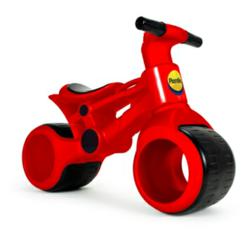 Ottawa, ON (PRWEB) October 02, 2012
PlasmaBike™, the pedal-free balance bicycle from PlaSmart Inc., was recognized as a top holiday toy this season by renowned toy expert Stephanie Oppenheim who gave it the Oppenheim Toy Portfolio Platinum Seal Award (2012).
"The PlasmaBike has quickly become a family favourite for good reasons: it provides toddlers with a safe and independent introduction to bicycle riding at an early age, great indoor and outdoor fun, but most of all, it helps build confidence in both the kids that ride it and the parents who watch over them," said Timothy Kimber, President, PlaSmart Inc.
The PlasmaBike has also recently won the Creative Child 2012 Preferred Choice Award, 2012 Parents' Choice Award, The National Parenting Centre's Seal of Approval – Spring 2012, was selected among Toy Insider's Top 2012 Spring & Summer Toys, Parenting Magazine's Best in Play and Best New Toys at the 2012 New York Toy Fair.
The PlasmaBike™ is a pedal-free balance bicycle with a unique shape which provides children 18 months and up a fun, more stable ride than traditional bikes. It is comfortably high, easy to propel and has recessed but reasonably wide spaced wheels for manoeuvrability and balance. The internal bearing system of its wheels ensures a safe and smooth ride, allowing progressive speeding while learning to avoid obstacles and hazards. Free from cables, chains and pedals, PlasmaBike has a sleek design and helps build bike riding confidence at an early stage. See more about it on http://www.plasmabike.com.
About PlaSmart Inc.
PlaSmart is a global toy distributor specializing in providing smart, simple, fun products that bring families together. PlaSmart's products include Perplexus™ (Original, Rookie, Epic and Twist), the world's first 3D and 4D maze games; PlasmaBike™, a two-wheeled, no-pedal balance bike; and PlasmaCar™, the now classic mechanical marvel powered by the cleanest and most inexhaustible energy source - kid power.
Plasmart's products are available on five continents and in more than 20 countries.