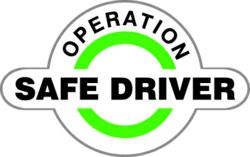 "We are joining forces with our law enforcement partners during this stepped-up mobilization to remind truck and bus drivers, and all motorists who share the road with them, to play it safe. After all, safe roads start with safe drivers."
WASHINGTON, DC (PRWEB) October 15, 2012
Countless lives are tragically lost every day across North America as a result of distracted driving, speeding and aggressive behaviors. These unsafe drivers in all types of vehicles account for nearly 9 out of 10 fatal crashes. During its annual Operation Safe Driver mobilization effort the week of October 14-20, 2012, the Commercial Vehicle Safety Alliance (CVSA) is calling on all drivers to reduce aggressive and distracted driving and save lives.
Law enforcement agencies across North America will respond by actively targeting these drivers during 'Operation Safe Driver,' a program sponsored by CVSA and the Federal Motor Carrier Safety Administration (FMCSA) as well as a number of strategic partners that include highway safety organizations, youth groups, truck and bus organizations, judicial and driver education organizations. The goal is to increase activities related to commercial vehicle and non-commercial vehicle traffic enforcement; safety belt enforcement; driver roadside safety inspections; driver regulatory compliance; implementation of commercial driver educational and awareness programs to the motor carrier population; and raising awareness to teens and the motoring public about safe operations around trucks and buses.
Two media events, one in Yonkers, New York on October 15, and another in Harrison, Arkansas on October 16, will highlight the importance of driving safely and without distractions, particular for our youth. In addition, PSAs will run all week on radio stations in the three metropolitan regions where the most truck and bus crashes occur, specifically, New York-New Jersey-Long Island, Dallas-Fort Worth-Arlington, and Chicago-Joliet-Naperville.
"The driving task is becoming more challenging each and every day for all of us that are on the road," said CVSA's President, Major Mark Savage of the Colorado State Patrol. "It is critically important that all drivers keep their hands on the wheel, their eyes on the road and their minds in the game," he explained.
"Driver behavior is the single most important factor in preventing crashes," said FMCSA Administrator Anne S. Ferro. "We are joining forces with our law enforcement partners during this stepped-up mobilization to remind truck and bus drivers, and all motorists who share the road with them, to play it safe. After all, safe roads start with safe drivers."
Operation Safe Driver Program Chair, Brian Neal of FedEx Ground, said "Operation Safe Driver is a call to action to step up our commitment for defeating distracted driving. Too many lives are being lost and all of us need to pull together to engage in this effort."
This week, thousands of law enforcement officers will be conducting traffic enforcement operations on truck, bus and car drivers next week throughout the United States, Canada and Mexico. In addition, Operation Safe Driver continues to build on its highly successful series of educational programs geared to specific audiences and the most prevalent unsafe driving behaviors. The "Teens & Trucks Training Program" was launched in 2009-10 to help educate young drivers about safe driving practices around commercial vehicles. In 2010-11, "Defeating Distracted Driving" was introduced to educate truck and bus drivers about the dangers of distracted driving for use by fleets, driving schools and other outlets.
This year, the program is releasing the "Teens & Trucks: Curbing Distracted Driving" curriculum. This update to the Teens & Trucks curriculum teaches teen drivers how to adapt many of the same tactics used by professional truck drivers to reduce or eliminate on-road distractions. CVSA, with funding support from FMCSA and in partnership with the Arizona Transportation Education Foundation and Arizona Department of Public Safety, has developed these programs to help provide tools to enhance safe driving practices to curb these deadly behaviors.
About CVSA
CVSA is an international not-for-profit organization comprised of local, state, provincial, territorial and federal motor carrier safety officials and industry representatives from the United States, Canada, and Mexico. Its mission is to promote commercial motor vehicle safety and security by providing leadership to enforcement, industry and policy makers. The Alliance actively monitors, evaluates, and identifies solutions to potentially unsafe transportation processes and procedures related to driver and vehicle safety requirements most often associated with commercial motor vehicle crashes. In addition, CVSA has several hundred associate members who are committed to helping the Alliance achieve its goals; uniformity, compatibility and reciprocity of commercial vehicle inspections, and enforcement activities throughout North America by individuals dedicated to highway safety and security. For more on CVSA, visit http://www.cvsa.org or to access the Operation Safe Driver electronic toolkit, go to http://www.operationsafedriver.org.