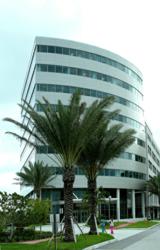 Blum-Nico Oral Surgery Associates, of Miami, is proud to announce the opening of its location in Aventura, Florida
Aventura, Florida (PRWEB) July 12, 2012
Blum-Nico Oral Surgery Associates, of Miami, is proud to announce the opening of its location in Aventura, Florida. Drs. Jeffrey Blum and Eduardo Nicolaievsky offer a comprehensive menu of oral surgery procedures that include placement of dental implants, corrective jaw surgery, wisdom teeth extraction, oral pathology evaluation and treatment, and a full spectrum of oral surgery services.
At Blum-Nico Oral Surgery, patients have access to an array of cutting-edge medical technology, including 3D dental scanners and computer aided dental planning that makes every procedure quick, safe, and painless. Drs. Blum and Nicolaievsky understand that the thought of dental surgery can be a scary prospect for many patients and are committed to making every procedure a positive experience ensuring the comfort of each patient. IV sedation is also available for every procedure. Satisfied patients praise the professionalism and compassion of every staff member.
Dr. Jeffrey Blum was recently recognized as one of the Top Doctors in America, by his peers. He has also been featured on many television programs and radio shows, including "Dr. Drew's Life Changers," on which he discussed the causes and indications for corrective jaw surgery.
Oral surgeon, Dr. Eduardo Nicolaievsky, has also received numerous accolades, endorsements and glowing performance reviews. He has been nominated as one of the Top Physicians in the entire world by his peers. Dr. Nicolaievsky has been featured on many television shows and is an international lecturer.
Both doctors are board certified by the American board of Oral and Maxillofacial Surgeons (ABOMS) and are fellows of the Association of Oral and Maxillofacial Surgeons (AAOMS). They are affiliated with many highly acclaimed professional organizations and medical institutions, including Mount Sinai Medical Center, the Academy of Osseointegration (AO), the American Dental Association (ADA), and the Florida Dental Association (FDA).
Blum-Nico Oral Surgery Associates is proud to offer all patients the most advanced dental care available, including stem cell harvesting, guided dental implant surgery, and the use of Platelet-Rich Plasma (PRP). The clinic's stem cell program, StemSave, gives patients the opportunity to have stem cells harvested during a routine visit. Once harvested, the StemSave program preserves these cells similarly to the cord blood taken at birth. These stem cells are then stored and can be used by the patient should the need arise. Guided dental implant surgery is a cutting edge technology that allows the surgeons at Blum-Nico Oral Surgery Associates to fully plan the placement of dental implants using advanced computer and 3D technology. The outcome is precise placement of implants in a controlled and efficient manner, with less chair time for the patient and better results.
Platelet-rich plasma (PRP) is a blood byproduct that's packed with platelets, special cells that accelerate healing and the formation of beneficial blood clots. Plasma extracted during a routine office procedure is applied at the site of a bone graft to accelerate healing and minimize discomfort. One of the greatest benefits of PRP is the impossibility of rejection; since the plasma has been harvested from the patient's own body.
For years, Blum-Nico Oral Surgery Associates has been the leading name in oral surgery and dental implants, with over 50 years of combined experience. Together with their team of highly trained and skilled clinicians, they are committed to continuous education and staying abreast of the latest techniques, products, and equipment to provide state-of-the-art optimum care. Drs. Blum and Nicolaievsky look forward to establishing themselves at the forefront of oral and maxillofacial surgery in Aventura and serving the community. The practice is currently accepting new patients; appointments may be made via telephone (305) 974-1587 or online at [http://www.BlumNico.com.