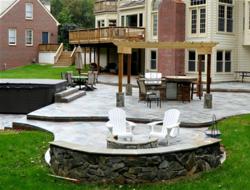 New patio information on ConcreteNetwork.com discusses four key advantages that building with concrete offers
Calimesa, CA (PRWEB) May 10, 2012
New patio information on ConcreteNetwork.com discusses four key advantages that building with concrete offers over other available paving materials. Covering versatility, durability, concrete patio cost, and color options, the site guides consumers as they begin new construction projects this spring.
Concrete is the only paving material that allows consumers to create truly unique and custom outdoor hardscapes at home. As outlined in this new information, the benefits, however, go deeper than wood or stone materials can offer.
Building with concrete offers four unique advantages over other popular building materials. They include:
1. Versatility- The ability to pour and shape concrete patios is endless.
2. Durability- The ability to stand up to a wide range of weather conditions and foot traffic.
3. Cost- Concrete patios cost less than their counterparts built from natural materials.
4. Color Options- With new decorative products, concrete can be colored in just about any hue.
Patio designs and ideas can come from a variety of places. With concrete, consumers working with a professional concrete contractor have full control over the final look and outcome of a project. For more on the benefits of concrete patios, and for an extensive gallery offering patio designs and ideas, visit ConcreteNetwork.com.
Article photo courtesy of Salzano Custom Concrete in Centerville, VA. Attached photo courtesy of Concreations LLC in Millersburg, IN.
About ConcreteNetwork.com
Established in 1999, ConcreteNetwork.com educates consumers, builders, and contractors on popular decorative techniques and applications. These include stamped concrete, stained concrete, concrete countertops, polished concrete, and much more. Over 12.5 million people visited The Concrete Network website in 2011 to research, get ideas, find concrete products, and to find a contractor.
The site connects buyers with local concrete contractors through its Find a Contractor service throughout the U.S. and Canada, and is fully searchable by more than 20 types of decorative concrete work. Through its Find Concrete Products service, the site provides visitors with a list of decorative concrete manufacturers throughout the U.S. and Canada, as well as local decorative concrete supply stores.