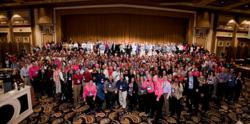 "We were curious to see how many of the 1600 attendees would show up for the photo opp. Of course, it's very hard to compete with the Vegas Strip – even for a record breaking photo!" - Fatima Ratcliffe, Pink Elephant's CEO
Las Vegas, NV (PRWEB) February 29, 2012
Over 500 ITIL-Certified Professionals joined together at Pink Elephant's annual conference to participate in the largest gathering of ITIL-Certified Professionals in a single spot.
The monumental photo was taken at Pink Elephant's 16th Annual Conference & Exhibition at the beautiful Bellagio Hotel in Las Vegas. IT professionals from around the world participated in the record setting photo including attendees from South Africa, UK, Japan, Europe and New Zealand.
"We were curious to see how many of the 1600 attendees would show up for the photo opp," Fatima Ratcliffe, Pink Elephant's CEO's mused, "Thanks to the 500 who did. Of course, it's very hard to compete with the Vegas Strip – even for a record breaking photo!"
This photo is a first for the industry and will hopefully lead to other organizations and events taking part in similar activities. Pink Elephant is known for creating some awe-inspiring moments at its events and this year's conference and record setting photo was no different. Past events have featured a live Elephant, the Miami Dolphin Cheerleaders and a Pink Floyd cover band.
"WOW! In the click of a shutter we set a world record!" George Spalding, EVP, Pink Elephant said enthusiastically, "Just a hair over 500 ITIL-certified professionals gathered in a single spot at PINK12, the most people with ITIL certifications ever photographed in a group! Silly? Of course. But after an incredible head-filling day of intense learning what better way to unwind at PINK12! It was indeed a blast. Let's go for 600 next year!"
About Pink Elephant
Founded in 1980, Pink Elephant is the leader in providing IT Service Management best practice services. Operating in many locations across the globe including the USA, Canada, Mexico, Brazil, the UK, Netherlands, South Africa, Hong Kong, Malaysia & Singapore, Pink Elephant is the world's #1 supplier of ITIL® and IT Service Management conferences, education and consulting services.
For more information, visit http://www.pinkelephant.com.
For further information, please contact:
Christina Petovello
Communications & PR Manager
Pink Elephant
Toll Free: 1-888-273-7465, Ext. 282
E-mail: c(dot)petovello(at)pinkelephant(dot)com
ITIL® is a Registered Trade Mark of the Cabinet Office.
# # #