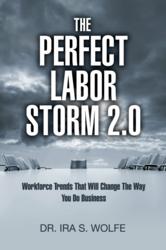 The elephant in the room is education and functional literacy," says Perfect Labor Storm, 2.0 author Ira S Wolfe. They are only fueling the fires of Perfect Labor Storm.
Lancaster, PA (PRWEB) June 19, 2012
"Many employers still don't get it," Ira S Wolfe shared with many of the top female executives in the Dallas-Fort Worth area in late May. "High unemployment does not equal more qualified workers in this new global and technology-driven economy."
Wolfe, president of Success Performance Solutions and the keynote speaker at the Women's Executive Roundtable, told his audience, "Historical perceptions about supply and demand for skilled workers are completely out of sync with reality." The supply of workers available to do many task-oriented jobs already exceeds demand. Wolfe estimates this is just the beginning of the Perfect Labor Storm - that by 2020 there will be nearly 3.5 times more workers seeking low-skill jobs than jobs available.
The same cannot be said for workers available to fill skilled positions when only 50 million workers will be available to fill over 120 million skilled jobs.
It's not just technology and outsourcing that's causing the mismatch either. "The elephant in the room is education and functional literacy," says Wolfe. "They are only fueling the fires of Perfect Labor Storm."
According to the Bureau of Labor Statistics and U.S. Census Bureau, nearly one out of eight working age adults (12.4%) in the U.S. do not have even a high school diploma. "That is a catastrophic problem since nearly every new job being created requires at least some secondary education," states Wolfe.
Another 24 percent of working-age adults hold a high school diploma and no secondary education. The number jumps to more than 31 percent for adults 55 and over, nearly 32 percent for blacks, and 27 percent for Hispanic. "That means that somewhere between one-fourth and one-third of our working population don't meet the minimum educational requirements for jobs being created or re-created." Many of these workers find themselves on the unemployment rolls with little to no chance of re-gaining good paying jobs.
Sadly, the shortage of skilled workers due to lack of advanced education falls in the shadow of an even bigger problem. Even those workers with advanced education often don't possess the basic literacy skills needed to be functional in today's workplace and even society.
It has been reported that less than half (44%) of 25-to-34 year old high school graduates operate at literacy levels of 3 or higher, the minimum functional level for most jobs. That means that more than 6 out of 10 working age adults don't have the most basic functional literacy skills such as the ability to locate the expiration date on a driver's license, total a bank deposit slip, or sign their names, locate an intersection on a street map, understand an appliance warranty, or total costs from an order.
The Perfect Labor Storm 2.0 is also available on Amazon, Barnes & Noble, or direct from Success Performance Solutions (http://www.super-solutions.com). The Kindle version of The Perfect Labor Storm 2.0 includes all the chapters of the print version including the effects of aging, stress, employee turnover, women in the workplace, presenteeism, education, and literacy on skilled worker shortages.
Wolfe, a popular speaker at conferences and business meetings, is also the author of Geeks, Geezers, and Googlization and Understanding Business Values and Motivators. In addition to his keynotes and workshops, Wolfe blogs extensively about the future of the workplace as well as best recruiting and hiring practices. Wolfe is currently scheduling media interviews as well as keynotes and other presentations for the fall of 2012 and 2013.