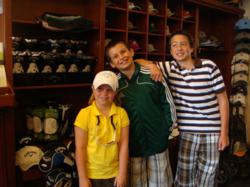 "We had a great time the Golf Instructors at Port Ludlow, are Awesome," Callaway Cooper age (7).
Port Ludlow, WA (PRWEB) August 13, 2012
Port Ludlow Golf Course Kids Golf Day will take place, Saturday, August 18, 2012. Kids ages 5 and older will receive over 4 hours of instruction from PGA Certified Professionals at the renowned, Port Ludlow Golf Course. The class starts at 9 am and runs until approximately 1:30 pm.
Kids receive a golf club that is fitted to them to keep and all skill levels are encouraged to attend and everyone will receive appropriate group instruction and an opportunity to learn the skills necessary to play the game of golf throughout the day.
The lesson plan includes all aspects of golf: putting, chipping, pitching, full swing, and rules. Kids must be at least 5 years old by the start of the clinic.
Eligibility: Open to any kids with an interest in learning how to play golf, participants to be at least 5 years old as of August 18, 2012.
Cost: $25 per Player for Golf Instruction or $45.00, which includes Instruction & Unlimited Golf for the day.
Port Ludlow Resort Contacts
Director of Golf: Vito De Santis
Port Ludlow Golf Club
360-437-8270
VDeSantis(at)portludlowresort(dot) com
Matt Pritchard Assistant Golf Professional
The Resort at Port Ludlow 751 Highland Drive, Port Ludlow, WA 98365
p: 360-437-0272 | f: 360-437-0637
MPritchard(at)portludlowresort(dot)
Director of Development: Jennifer Lampe
Port Ludlow Re
JLampe(at)portludlowassociates(dot)com