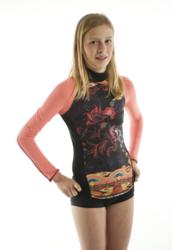 We design swimsuits to appeal to a girl's sense of style, but with coverage options to give her confidence in the water and UV protective fabrics to protect her skin from the sun
Santa Cruz, CA (PRWEB) May 09, 2012
With summer break just around the corner, parents of pre-teen girls will soon be tackling the challenge of finding age-appropriate swimsuits for their daughters. Girls often complain that children's swimsuits aren't trendy enough, while their parents cringe at the skimpy adult-sized alternatives. Swimwear designer Girls4Sport tried to bridge the gap. The newly-released summer 2012 swimwear line features fashionable prints that pre-teen kids love with cute but modest coverage options that parents can love as well.
As the mother of a daughter, Girls4Sport President Kim Ruby understands parents' concerns as well as the fashion sense of pre-teen girls. "We design swimsuits to appeal to a girl's sense of style, but with coverage options to give her confidence in the water and UV protective fabrics to protect her skin from the sun. Plus, our small and extra-small sizes provide great fits for girls riding the line between children's and adult sizing."
The Girls4Sport line features rash guards with feminine cuts as well as cute tankini tops in halter, tank, and sleeveless styles. The tops are all designed with built-in shelf bras, extra length in the torso to keep from riding up, and are made from a comfortable nylon/spandex fabric blend with a maximum sun-protection factor of UPF 50+. Girls4Sport's mix and match swim bottoms range from stay-put bikini bottoms and full coverage boy briefs to beach skirts and board shorts in a variety of lengths.
The swimwear prints for summer 2012 include the colorful, star-studded Pop Star with black accents, a red and black heart-shaped tattoo-inspired print called Forever, a retro surf print called Pacific, and sophisticated swirls of pink for a print called Zen Pink.
To browse Girls4Sport's UV protective, pre-teen swimwear, visit http://www.girls4sport.net.