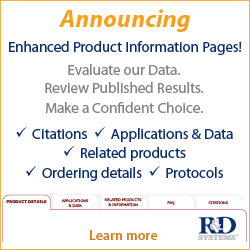 Minneapolis, MN (PRWEB) December 04, 2012
R&D Systems is excited to announce the publication of approximately 100,000 individual product detail pages on their website, http://www.RnDSystems.com. The new pages were designed incorporating customer feedback and include all the detailed product information researchers require. Presented in a visually appealing, user-friendly format each individual page provides:

Citations of the product in the literature
Data examples with detailed figure legends
Relevant experimental protocols
Related products by product type, molecule, and technique
Answers to frequently asked questions
Product datasheet
Product certificate of analysis
Product MSDS
Customer feedback form
Price and ordering details
The new product pages are part of R&D Systems ongoing efforts to provide their customers with the most useful information in the simplest format. The company is committed to supporting researchers with scientific information that equals the premium quality of its products.
Historically known as a world leader in the development of reagents for cytokine research, today R&D Systems offers high performance antibodies, the most referenced collection of bioactive proteins and immunoassays in the industry, and a wide selection of multiplex immunoassays.
To view an example page visit: http://www.RnDSystems.com/PSP.