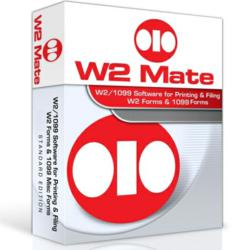 The new features and enhancements in our 2012 W2 1099 processing software deliver greater productivity that helps our customers save time and money.
Chicago, IL (PRWEB) January 18, 2013
The Internal Revenue Service has provided new updates to Publication 1220, Specifications for Filing Forms 1097, 1098, 1099, 3921, 3922, 5498, 8935 and W-2G Electronically. Real Business Solutions, US 1099 software developer, is helping business filers comply with these new changes and electronically file 1099 forms through IRS FIRE system. Free trial download of the new software is available from http://www.W2Mate.com/
W2 Mate, the W2 1099 Software offered by Real Business Solutions, can print and electronically file the following types of forms:
W2 Mate supports filing the following IRS W2 / 1099 forms:

1099 MISC Forms: Miscellaneous Income
1099-INT Forms : Interest Income
1099-DIV Forms : Dividends and Distributions
1099-R Forms : Distributions From Pensions, Annuities, Retirement, etc.
1098-T Forms : Tuition Statement.
1096 Forms : Annual Summary and Transmittal of U.S. Information Returns.
1099 K: Merchant Card and Third Party Network Payments.
W2 Forms : Wage and Tax Statement.
W3 Forms : Transmittal of Wage and Tax Statements.
1099-B Forms : Proceeds From Broker and Barter Exchange Transactions.
1099-PATR Forms : Taxable Distributions Received From Cooperatives.
1099-OID Forms : Original Issue Discount.
1099-S Forms: Proceeds From Real Estate Transactions.
1098 Forms : Mortgage Interest Statement.
1099-A Forms : Acquisition or Abandonment of Secured Property.
1099-C Forms : Cancellation of Debt.
Risk-free trial of W2 Mate 2012 can be downloaded from http://www.W2Mate.com/. Customers can purchase W2 Mate and receive it instantly.
Every year, business filers and tax professional are faced with the task of processing year-end information returns. 1099 and W-2 tax forms must be printed and delivered no later than end of January, so that recipients can receive these tax statements in time for their own income tax reporting with the IRS. W2 Mate software makes the process of 2012 / 2013 W2 1099 filing smooth, easy and above all affordable.
W2 Mate is the perfect software program for business filers looking for answers to questions like how to process 1099's, how to file 2012 1099s electronically, how to file form 1099 with the California state tax department, how to process 1099-MISC using Great Plains (MS Dynamics), how to print a 2012 1099 MISC form and many other similar questions.
W2 Mate Software Highlights:

E-files 2012 W2s and 1099s with the SSA and IRS (no limitations on the number of tax forms or electronic filing submissions).
Creates 2012 employee W2's as PDF and recipient (vendor) 1099's as PDF.
Supports 1099MISC, 1099K, 1099INT, 1099DIV, 1099R, W2, W3, 1096, 1099S, 1098T, 1098, 1099A, 1099B, 1099C, 1099PATR, 1099OID.
Prepares unlimited number of 2012 W2 and 1099 forms for multiple employers and payers.
Fills in pre-printed 1099 Copy-A forms and prints other 1099 copies such as recipient and payer copies on plain paper using black ink.
SSA approved to print W2 & W3 forms on regular white paper, which eliminates the need for expensive forms.
Data import from MS Dynamics, Great Plains, Intuit QuickBooks, Sage Peachtree, Sage DacEasy, Excel and CSV. Data import from QuickBooks removes the "800 Form" / "$10 Million payroll" maximum limitation.
Efficient and intuitive manual W2 / 1099 data entry.
Automatically calculates Social Security and Medicare taxes. For paper filers 1096 and W3 are automatically generated.
Supports Windows 8, Windows 7, Windows Vista, Windows XP, Windows Server 2003, Windows 2000 or Windows 98.
Roll-over of payer and recipient information from year to year.
Password protection and data validation.
Generates printing labels, form totals and recipient lists.
Prompt, courteous and reliable U.S.-based support through phone, chat or e-mail.
Network ready with affordable pricing for multiple seats.
Exports W2s and 1099s to excel.
Meets IRS and SSA regulations.
TIN matching and verification including reports for missing TINs and TIN matching errors.
On-premise software solution to be installed on individual computers / workstations.
Supports foreign recipient address for 1099 forms (such as Canadian).
Complete W2 preparation software.
Includes 2012 form 1099 instructions.
Free 2012 IRS 1099 printing and e-filing software evaluation can be downloaded from http://www.W2Mate.com. Customers can purchase the software and receive it instantly.