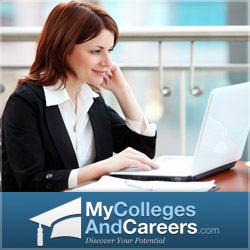 2 in 10 Americans say that now is a good time to find a high-quality job.
Provo, UT (PRWEB) March 22, 2012
A recent Gallup Poll, released on March 16th, showed that 2 in 10 Americans would express the opinion that right now is a good time to find a high-quality job. This data, which polled individuals in the month of March, shows drastic improvement in the economy as 19 percent of Americans say that right now is a great time to find employment. This is up from 13 percent of Americans who had the same opinion in February. My Colleges and Careers, as a proponent of online education, can help individuals qualify for the highest-quality jobs by guiding them towards an equivalent education.
Since September 2008, optimism has been painfully low when it came to the job market. Slowly, but surely, optimism is creeping back up. This is a clear sign that many Americans are feeling a shift towards improvement in their individual economies as well as in the national economy. In 2007, before the recession began, it was nearly 50/50 for those who thought that the current time was good or bad for finding jobs. For the past four years, opinions have been polar opposites. Fortunately, things seem to be on the mend. My Colleges and Careers hopes to be at the forefront in helping individuals seeking gainful employment and getting the qualifications they need. Doing so will allow them a greater likelihood of snagging a high-quality job. Criminal justice careers, for instance, provide a wide range of opportunities for individuals in many different fields. Criminal justice is a field that will always grow, despite economic difficulties. Being qualified for work in this field is just one example of the types of high-quality careers that are available on the job market and that My Colleges and Careers can help students qualify to work in. Online colleges provide one of the most convenient ways to get qualifications for this, or any career field.
In summary, there are tools and services found on the My Colleges and Careers website, and other associated websites, that are ideal for helping individuals towards finding a high quality career. These tools include things like a degree-finding tool, articles providing career, salary and benefit information, and even an online education blog. As the economy begins to improve, along with American's perception of this improvement, more and more individuals will be able to get higher-quality jobs. The more employable one makes oneself, the more qualified they will be for a job in their field, in rough economic times or in good economic times.
About My Colleges and Careers
My Colleges and Careers is dedicated to helping students and prospective students earn their college degrees through online degree programs. Considering that most students have other responsibilities and commitments, My Colleges and Careers can become a great resource for those seeking a way to fit school into an already busy schedule. Through online programs, students can complete their schooling at their own pace. The tools and services offered on the My Colleges and Careers website have already assisted many students in completing their education and starting a successful career.