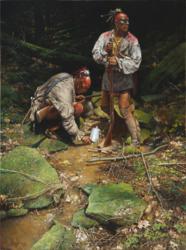 Quest for the West has quickly become a very popular, annual event for collectors
Indianapolis, IN (PRWEB) August 20, 2012
Following a record year in 2011and record registrations for 2012, the Quest for the West Art Show and Sale will bring collectors and art enthusiasts from around the world to Indianapolis this fall, on Sept. 7-9. The invitational art exhibition and fixed-price sale features 50 of the nation's top Western artists. The intimate event provides a unique opportunity for veteran and novice collectors to meet and interact with artists and purchase exceptional works from these top artists.
The Eiteljorg Museum of American Indians and Western Art is excited to welcome three new artists to Quest: Bruce Cheever, Heide Presse and Adam Smith.
Opening weekend activities include the art sale, a gala reception, demonstrations and opportunities to meet participating artists. Among the honors presented during opening weekend will be a Purchase Award that recognizes creative excellence and adds an important artwork to the museum's permanent collection.
"Quest for the West has quickly become a very popular, annual event for collectors," said John Vanausdall, Eiteljorg president and CEO. "This event has helped propel the Eiteljorg into national prominence and has brought a host of people to the wonderful city of Indianapolis. We are humbled by the success of this great event and honored by our institution's relationship with these extraordinary artists."
Last year's Purchase Award went to Greg Kelsey for his stunning sculpture, Hawk of the Mountains. This dramatic equestrian work is the first sculpture to receive the award and is currently featured in the Eiteljorg's Art of the West Gallery. The artist writes of the piece, "Hawk of the Mountains is a depiction of the historical Ute Indian Chief Colorow Ouray Walkara. He was a large Ute, standing over 6 feet with angular features and piercing eyes that earned him the nickname 'Hawk of the Mountains'…"
Last year, Doug Hyde was named Quest for the West Artist of Distinction, an honor that includes a special exhibition during the 2012 sale and show. This must-see retrospective will represent Hyde's work in both stone and bronze with works from private collections, rarely seen by the public. Hyde's work is found in major museum collections, has been featured in numerous exhibitions and was exhibited at the White House during the Clinton administration.
Artists previously honored with Artist of Distinction exhibitions include George Hallmark, Robert Griffing, Daniel Smith and Curt Walters. The Hyde show opens on Friday, Sept. 7. The annual Artist of Distinction exhibition is a unique feature to the Eiteljorg's Western art show and sale.
Reservations are required for weekend activities. Participation costs $300 per person ($250 for Eiteljorg Museum members) and includes an exhibition catalog, bid book and attendance at all related events.
For more information about Quest for the West or to complete a reservation form, visit the newly-redesigned http://quest.eiteljorg.org. One the new site, you can also find artist profiles, images of works for sale, a full schedule of events and much more.
The exhibition of artwork will open to the public on Sunday, Sept. 9, and will remain on display until Sunday, Oct. 7.
# # #
The Eiteljorg Museum of American Indians and Western Art seeks to inspire an appreciation and understanding of the art, history and cultures of the American West and the indigenous peoples of North America. The museum, which opened in 1989, is located in Downtown Indianapolis' White River State Park. For general information about the museum and to learn more about exhibits and events, call (317) 636-WEST (9378) or visit http://www.eiteljorg.org.