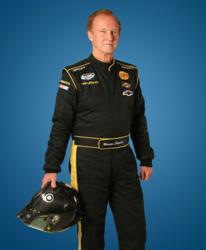 I've been very blessed, and we've been fortunate to still be going this long.
St. George, Utah (PRWEB) October 03, 2012
NASCAR legend Morgan Shepherd firmly holds his place as the oldest professional driver still racing in what just may be the most viewed sport on American television after NFL Football. With the help of personality icons like Richard Petty, Dale Earnhardt Jr., and Bill Elliott, as well as Hollywood blockbusters like Days of Thunder, Talladega Nights, and Cars, NASCAR has grown and continues to grow to a startling popularity.
"I've been very blessed, and we've been fortunate to still be going this long," says Shepherd, set to turn 71 this October. "It's not just about the racecar, it's about the people. And the opportunity that we can reach all these people, worldwide."
Shepherd will reach over 10,000 athletes as well as thousands of spectators, volunteers and fans at the Huntsman World Senior Games Opening Ceremony this October 9. "His message will be inspiring," says Coral Darby, marketing agent for Hyland's Products who is sponsoring Shepherd's visit to the Games. "His story inspires millions to choose a healthy and active lifestyle. His presence just carries the message, 'Don't give up. Live healthy. It's worth it.'"
"It's just exciting to have him as our Guest of Honor this year," says Games CEO, Kyle M Case. "He's a genuine, humble man with a great story for athletes young and old. He's a fighter that refuses to stop living. Our athletes will relate with that."
With 19 wins, 107 top 5's, 235 top 10's and a 1980 Late Model Series championship in stock car's two highest levels of competition, Shepherd continues to compete full-time as the owner/driver of his Morgan Shepherd Racing Team. He is consistently ranked in the top 5 "Most Popular Drivers" by fan polls. Learn more about the Huntsman World Senior Games Opening Ceremonies, and find a link to Morgan's website by visiting http://www.seniorgames.net.
The Opening Ceremonies for the Huntsman World Senior Games will be held on Tuesday, October 9, from 7:00-9:00 PM at the Hansen Stadium at Dixie State College. Families, youth groups, couples, clubs and individuals are all welcome to attend this amazing event complete with dancing, music, the Morgan Shepherd appearance, fireworks and much more. Admission to this event has been paid by generous sponsors, so bring everyone for a great time for free.