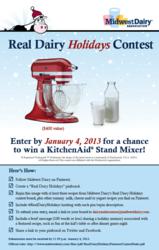 "Good recipes that are enjoyed by friends and families are keepsakes that just keep on giving through the years."
St. Paul, Minn. (PRWEB) December 03, 2012
Real food lovers unite! Families gathering in the kitchen and around the dinner table this season have a resource for 100 percent real dairy recipes on Pinterest. Midwest Dairy Association, who works on behalf of more than 9,500 dairy farm families across 10 states, today launched the Real Dairy Holidays Contest on Pinterest giving one lucky pinner the chance to win a KitchenAid® stand mixer ($400 value). The contest runs December 3 through January 4, 2013.
Holiday happenings and gatherings evoke unforgettable memories, and food and recipes are a key part of these recollections. Midwest Dairy's Pinterest pinboards feature a variety of delicious dairy recipes, from homestyle breakfasts to traditional desserts and the meals in between from DairyMakesSense.com. To help families create new holiday eating traditions, the site also showcases recipes from the kitchens and cookbooks of Midwest dairy farm moms, like Karen Bohnert and Susan Anglin.
Let the Real Dairy Holidays Pinning Begin
To enter the Real Dairy Holidays contest:

Follow Midwest Dairy on Pinterest.
Create a "Real Dairy Holidays" pinboard.
Repin the contest pin, with at least three recipes from Midwest Dairy's "Real Dairy Holidays" contest board, plus other yummy milk, cheese and/or yogurt recipes found on Pinterest.
Include #RealDairyHolidays hashtag with each pin/repin description.
To submit your entry, email a link to your board to dairymakessense(at)midwestdairy(dot)com.
Include a brief message (100 words or less) sharing a holiday memory associated with a featured recipe, such as fun at the kid's table or after-dinner game night.
Share a link to your pinboard on Twitter and Facebook.
All entries will be reviewed by a panel of judges assembled by Midwest Dairy. Entries will be judged based on overall creativity, total number of pins, unique storytelling and variety of recipes chosen.
For more information about the Real Dairy Holidays contest and to view official rules, go to http://www.midwestdairy.com/files/pdf/RealDairyHolidaysPinterestContestRules.pdf
Pin Pointing Farm Favorite Recipes
Traditional pumpkin pie is just as delicious in easy-to-share squares during the holidays. Just ask dairy farm mom Susan Anglin, from Bentonville, Ark. Susan's been baking Pumpkin Pie Squares with Cinnamon Sugar Yogurt Topping ever since a co-worker shared the recipe more than 20 years ago. On her blog, Spotted Cow Review, she writes, "Good recipes that are enjoyed by friends and families are keepsakes that just keep on giving through the years."
For those with a sweet tooth who pass on pumpkin, add baking the Dairyman's VERY Chocolate Cake to the holiday to-do list. Cooking family recipes is one way Karen Bohnert, dairy farm mom from Silvas, Ill., keeps memories of her mother alive. On the Dairy Makes Sense blog, Karen says, "Me and my Jersey [farm] kids sport aprons, turn up the radio and make this delicious chocolate dessert on special occasions..."
More delicious dairy recipes are available at DairyMakesSense.com and for stories from Midwest dairy farm families, visit http://www.MidwestDairy.com.
###
Midwest Dairy Association is a non-profit organization funded by dairy farmers to build demand for dairy products through integrated marketing, nutrition education and research. Midwest Dairy is funded by checkoff dollars from dairy farmers in a 10-state region, including Minnesota, North Dakota, South Dakota, Nebraska, Iowa, Illinois, Missouri, Kansas, Arkansas and eastern Oklahoma. For more information, visit http://www.midwestdairy.com. Follow us on Twitter, Pinterest and find us on Facebook at Midwest Dairy.