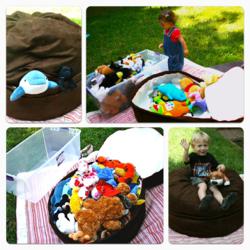 "It's a beanbag. It's a storage bin.
It's a beanbag. It's a storage bin.
It's a beanbag. It's a storage bin.
It's a beanbag AND a storage bin.
And in New York storage is everything".
~Bill Ritter, NYC
www.abcnews.go.com

Los Angeles, CA (PRWEB) October 03, 2012
Red Zipper Designs is pleased to announce the launch of their patent pending Storage-Pouffe, a revolutionary beanbag chair with storage!
Beans on Top, Storage on the Bottom
Red Zipper Designs has created a solution to your storage problems that is as elegant and comfortable as it is functional. The brainchild of two enterprising mothers, "The Storage-Pouffe" is the obvious solution to reducing clutter.
"My house was a total mess one day," says Andrea Soto, who co-founded Red Zipper Designs with Amber Goldman. "Our kids were jumping around on some beanbags and Amber said, 'What if we could just throw all this clutter into the beanbags?'" With this 'AHA!' moment, they set out to design their unique idea bringing together functionality, aesthetics, and comfort.
Endless Possibilities!!
The Storage-Pouffe's sophisticated design can hold 5,650 cubic inches of storage. It can be used to store just about anything: sheets, quilts, pillows, seasonal clothing, toys, and more. Andrea and Amber were able to stuff over 75 of their kids' stuffed animals!!! You could literally throw in the kitchen sink (although not recommended). That's a lot of space!
Comfort and Style
Red Zipper has made their Storage-Pouffe out of soft, yet durable micro-suede fabric, and high-quality stitching. It is completely washable and comes in four colors: Indigo, Chocolate, Pink and Buckskin with more color and material options such as Organic and Pure Cotton on the way!
Genius. The Pouffe has been made right. It's excellent quality, easily washable, extremely versatile, really cute, and it's a creative, practical solution.
We're using it to store a bunch of quilts and comforters, and as a footrest.
The kids love to flop on it, too.
I'll be giving these as gifts for years to come!
~Tina Bryson
http://www.TinaBryson.com
The Storage Pouffe integrates seamlessly into any household: children's playroom, guest room, living room, den or college dor1m room. It can also store hard objects, such as books, folders, and Legos without any trace of discomfort when lounging on it, which makes Red Zipper's Pouffe a college dorm room essential!
The Storage Pouffe is available now for purchase direct from Red Zipper Designs' website at:
http://www.redzipperdesigns.com