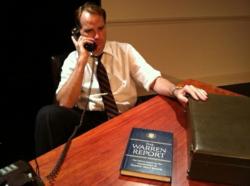 Only those who dare to fail greatly can ever achieve greatly.
-- Robert F. Kennedy
Philadelphia, PA (PRWEB) October 16, 2012
New City Stage Company began previews of the Philadelphia premiere of "RFK" by Jack Holmes on Wednesday, October 3 and the show has been selling out ever since. Arguably the highest rated play being performed in the greater Philadelphia area at this time, it has received rave reviews and 4 performances have been added in November as part of their community outreach program.
Read what the press is saying....
City Paper:
"RFK will be self-recommending to many people, but I hope some younger audiences get there, too. The show — and RFK himself — deserves it. "
Read the entire review here.
Philadelphia Inquirer:
"The history play RFK is special in several ways... it's exceptionally well performed by Russ Widdall... and like many single-character shows, shifts back and forth in time, but does so with grace and electricity."
Read the entire review here.
Stage Magazine:
"Regardless of your politics, party affiliation, or age, you should appreciate the extraordinary quality of Widdall's acting... what a performance!"
Read the entire review here.
ABOUT THE SHOW:
"RFK" begins in 1964 when President Johnson decided not to ask Senator Kennedy to be his running mate up until RFK's untimely assassination during the 1968 presidential election. It also includes background information on his personal life as well as his relationships with brother President John F. Kennedy, sister-in-law Jacqueline Kennedy, Reverend Martin Luther King, Jr. and FBI Director J. Edgar Hoover.
This historically accurate play features music and film footage from the era -- all compiled exclusively by New City Stage Company for this new production.
Film and television actor Russ Widdall, of HBO's "The Wire," portrays Robert F. Kennedy in this one-man tour de force show.
REMAINING PERFORMANCES:
Thursday, October 18 8:00 PM
Friday, October 19 8:00 PM
Saturday, October 20 3:00 PM
Saturday, October 20 8:00 PM
Sunday, October 21 3:00 PM
Sunday, November 4 3:00 PM
Sunday, November 4 7:00 PM
Monday, November 5 11:00 AM
Monday, November 5 4:00 PM
Tickets can be purchased by calling the box office at (215) 563-7500 or visiting our web site.
SPECIAL GROUP OFFER:
For senior and student groups of 10 or more, we have subsidized tickets available for the November performances. You can see the show at no cost if our group qualifies and reservations are made at least 48 hours in advance. Please call the Box Office Manager at 215-563-7500 ext. 1 for more information.